Fife eco-festival shelved for a year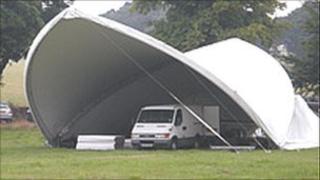 Scotland's biggest eco-festival has been shelved this year after becoming too popular.
The Big Tent Festival in Falkland, which attracted 11,000 people in 2010, is to take a year off to give its organisers time to plan for the future.
Proposals include the installation of compost toilets and solar showers and a range of other ways to reduce the event's carbon footprint.
The Falkland Centre for Stewardship organises the Big Tent Festival.
Organisers said by the time the event returns next year, improvements will have been made to the site which will allow the festival to develop in an environmentally-friendly way.
'Victims of success'
Launched in 2005 as a response to the G8 Summit in Gleneagles, the Big Tent Festival has become the largest in Fife and is seen as a major force in spreading the environmental message.
It moved to Home Park within the Falkland Estate last year. The new location and a main stage performance from Grammy Award winner Roseanne Cash helped attract more people than in previous years.
David Corner, chairman of Falkland Stewardship Trust, said: "We have almost become victims of our own success, in five years we have grown Big Tent to the point where our limited resources are in danger of not being able to deliver the high quality family festival for which we are famed.
"We will use 2011 to take stock, improve the site infrastructure and to plan a more congruent Big Tent festival for 2012."