Panda deal clinched by Edinburgh Zoo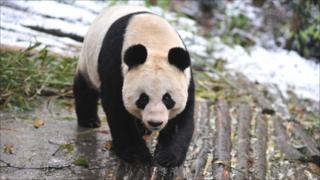 An agreement has been signed to bring two giant pandas to Edinburgh Zoo, the first to live in the UK for 17 years.
The deal was signed at Lancaster House in London by the Royal Zoological Society of Scotland and the Chinese Wildlife Conservation Association.
It was witnessed by Deputy Prime Minister Nick Clegg and Vice Premier of China Li Keqiang.
Tian Tian and Yang Guang, a breeding pair born in 2003, will be under the custodianship of the zoo society.
The project represents the culmination of five years of political and diplomatic negotiation at the highest level and it is anticipated the giant pandas will arrive in their new home as soon as a date is agreed.
The move has been welcomed by the Scottish government but animal protection charity, OneKind, questioned the wisdom of attempting to breed pandas in captivity so far from their natural habitat.
David Windmill, chief executive officer of the Royal Zoological Society of Scotland (RZSS), which runs Edinburgh Zoo, said: "This is a landmark day for RZSS, Edinburgh Zoo, the UK and China.
"It represents the beginning of a programme of research, education and partnership and the project has huge benefit for the UK and Scotland, both in supporting giant panda conservation and in enhancing our programmes in education, science and conservation."
Mr Liu Xiaoming, ambassador of China to the UK, said: "Pandas are a Chinese national treasure.
"This historical agreement is a gift to the people of the UK from China.
"It will represent an important symbol of our friendship and will bring our two people closer together."
Iain Valentine, Edinburgh Zoo's director of animals, conservation and education, said: "These wonderful animals will be housed in a specially-refurbished enclosure which was formerly home to our gorillas.
"The enclosure will offer a good mix of comfort and visibility so the public can see the couple as they settle into their new home.
"We are looking forward to welcoming a delegation from the CWCA to Edinburgh later this week to view the zoo and discuss our plans in detail."
Fiona Hyslop, Scotland's culture and external affairs minister, said: "Edinburgh Zoo has a world-leading reputation for animal conservation and I am delighted that Scotland has been chosen to take part in China's breeding programme for giant pandas.
"The agreement gives Scotland an important role in securing the future of this endangered species.
"As well as supporting China's work to protect these animals, the arrival of the pandas is expected to bring significant economic benefits for Scotland in terms of tourism, attracting hundreds of thousands of additional visitors to the zoo.
"Edinburgh Zoo has demonstrated that it has world-class expertise to breed and care for these rare animals and this announcement reflects our continuing work to strengthen the cultural, educational and economic links between Scotland and China."
Serious welfare concerns
Ross Minett, science and research manager at animal charity OneKind, said: "In this day and age, the prospect of two animals being transported from their homeland across the world so that the paying public in Scotland can see them in a cage in a zoo raises serious animal welfare concerns and is outlandish."
He added: "This is a commercial deal: the animals may appear to be diplomatic gifts - an outdated concept in itself - but in fact the zoo will pay a substantial fee for the lease of these animals.
"The Scottish and UK governments should ask themselves whether their support for this project is really in line with modern concepts of animal welfare and conservation.
"International conservation organisations like the World Wide Fund for Nature favour an approach that protects the panda's habitat and allows the natural population to grow, and if Edinburgh Zoo is serious about conservation it should be throwing its support behind local projects in China."
The giant panda project will be funded through sponsorship.