Vintage bicycle boost for Edinburgh charity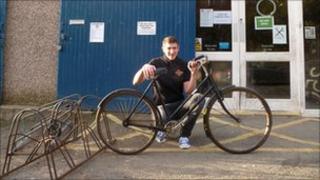 Edinburgh bicycle recycling centre the Bike Station had a welcome surprise to the new year.
It was in the shape of a vintage British-built steel ladies bike from the 1950s, which was said to be in very good condition.
It was the 25,000th bike received by the charity since it opened its doors.
Matt MacDonald from the Bike Station said: "We are very proud of this bike as it clearly shows what the bike station' s about."
He added: "The bike was parked in our cycle parking over the holidays which someone had padlocked there and posted the keys through our letter box.
"Maybe it was a first footer, or maybe a Christmas gift. It's a good demonstration of the kindness we see all the time here."
Cycle training
During its 10 years of recycling the charity has taken in 375 tonnes of bike, which is the same weight as seven Edinburgh trams.
Of the 25,000 bikes received, 11,000 have been repaired and put back on the road.
If a bike cannot be repaired the usable parts are taken off and used to fix other bikes or made available to cyclists as spare parts for their bikes.
The rest of the bike is then sent to a local metal recycling yard as scrap.
The Bike Station also provides cycle training, bike maintenance training and holds regular bike sales.
Mr MacDonald said: "We're trying to make cycling accessible and easy for everyone."