Visitor boom at St Andrews Castle and Linlithgow Palace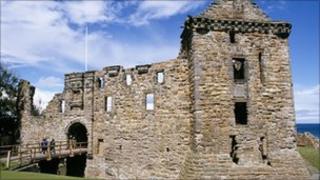 A huge boom in visitors at two historic sites in Fife and the Lothians have been reported over the festive period.
Admission figures between 24 December and 4 January, saw a 92% increase in numbers at St Andrews Castle compared with the same period last year.
Linlithgow Palace in West Lothian also recorded a rise with a 37% increase on the same period last year.
St Andrews Castle had 329 visitors in seven days and Linlithgow Palace had 496 visitors over eight days.
Culture Minister Fiona Hyslop said: "The Christmas and New Year period is a fantastic opportunity to enjoy Scotland's stunning built heritage.
"Scotland continues to be a 'must-see' destination at this time of year, so it is fantastic to see this reflected in visitor numbers at St Andrews Castle.
"These figures are testament to the continued appeal of our heritage attractions and the hard work of staff to provide a world-class experience.
"It is fantastic to end the year in such a positive position and rounds off an exceptional 12 months for the sector."
'Successful season'
St Andrews Castle was the main residence of the bishops and archbishops of St Andrews and formed the focal point of the Church in Medieval Scotland.
Stephen Duncan, head of commercial and visitor operations for Historic Scotland, added: "We are delighted that the castle has enjoyed such a successful Christmas and New Year in terms of visitor numbers.
"Despite the extreme weather throughout much of December, the site has performed extremely well over the festive season, mirroring what has been a hugely successful season to date."