Edinburgh's 'treacherous' pavements a 'disgrace'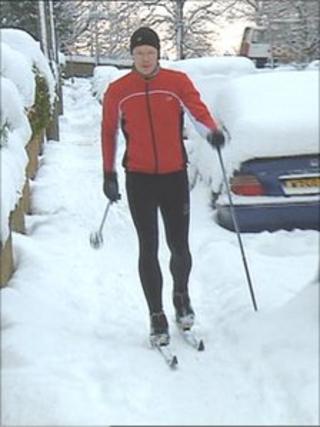 "Treacherous" snow-covered pavements which have not been cleared in Edinburgh have been criticised as a "disgrace" by community leaders.
Norman Tinlin, Fairmilehead Community Council secretary, said it was "outrageous" that snow had not been cleared from the streets in his area.
Eric Barry, councillor for Colinton and Oxgangs, said the pavements were so bad residents were trapped in their homes.
Edinburgh City Council said it had 12 mini-tractors to clear pavements.
Mr Barry, told the BBC Scotland news website: "I feel a lot more could have been done about the snow on the pavements, I appreciate there is a lot of snow, but there should be a lot more people working to get them clear.
"Pavements must be cleared for people to be able to get out of their homes.
"The council didn't put aside money to pay for people to work the mini-tractors outwith 9-5 hours, which is ludicrous because they should be working throughout the night.
"I have also only seen one of these mini-tractors in the streets and it was clearing the pavement outside Alex Salmond's residence in Charlotte Square.
"Where I live in Oxgangs it is impossible for most people to get out to the shops."
Mr Tinlin said: "The council has absolutely forgotten about us in the suburbs. The pavements are dangerous and it is actually safer to walk on the roads here.
"The council is concentrating on the centre of town rather than the outskirts but what is the point of clearing Princes Street if people can't get out of their houses to get there.
"We can't get down to the bus stop and I would urge the council to clear the pavements now.
"I am angry about this because we highlighted this problem earlier in the year but nothing has been done.
"It's treacherous and a disgrace, it's a real struggle here in Buckstone."
'Further danger'
Helen Wallace-Thomson, 29, who lives with her two children in Balgreen, said: "The council is saying we are to help ourselves by shovelling the snow from outside our houses but this is actually causing a further danger because its producing potholes in the snow along the pavement.
"Our neighbourhood is so blocked with snow that there must be a lot of elderly people who are house-bound and I have no idea how they are doing.
"It is outrageous that the pavements haven't been cleared as we only live two miles from the city centre."
An Edinburgh City Council spokeswoman said: "We have 12 mini-tractors. They have a blade on the front to clear snow and an attachment on the back which releases salt.
"We are bringing in contractor with JCBs to help clear snow on Cat 1 and Cat 2 routes.
"We have identified several sites across the city for the dumping of snow. JCBs are going into neighbourhoods to collect snow which is then getting dumped at various sites.
"We are working round-the-clock in extreme weather conditions, we are doing out best to keep the city moving.
"Office staff have been volunteering to go out and clear snow."