Edinburgh Airport reopens after snow disruption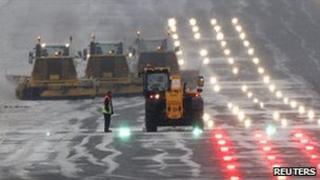 Edinburgh Airport reopened at noon after heavy snow was cleared from the runway.
There were no flights on Monday, but despite further snow showers forecast officials were hopeful it would remain open on Tuesday.
Passengers have been warned to contact their airline before arriving at the airport.
Earlier the airport opened at 0330 GMT before closing again at 0600 GMT but no planes landed or took off.
'Weather emergency'
Meanwhile all state schools in Edinburgh, East Lothian, West Lothian, Midlothian and Fife are closed for a second day due to the severe weather conditions hitting the country.
Schools in Midlothian, West Lothian and East Lothian will remain closed on Wednesday.
Edinburgh City Council said it would partially reopen its schools on Wednesday.
The following primary schools will reopen on Wednesday: Craigentinny, Broughton, James Gillespie's Primary School, Sciennes, Gylemuir (nursery closed) and Bruntsfield.
The following nurseries will reopen on Wednesday: Cowgate, Calderglen and Tynecastle.
All secondary schools for pupils in S4, S5 and S6 will be open on Wednesday except for Queensferry High School.
All secondary pupils should bring a packed lunch. Pupils who get transport from Ratho, Kirknewton and Livingston to Balerno High School should not attend as transport is unavailable.
All teachers are being asked to try to get to work on Wednesday even if their school is shut.
All special schools in the capital with remain closed on Wednesday with the exception of the Panmure St Ann's service.
All Edinburgh community centres will reopen on Wednesday with the exception of Ratho, Roseberry Hall, Inch, Jack Kane, Bingham and Magdalene.
Fife Council said it would be the decision of each head teacher whether their school reopened or remained closed on Wednesday.
Many private schools in Edinburgh have also been closed, including The Mary Erskine School and Stewart's Melville.
Heriot-Watt University campus on the outskirts of Edinburgh and Edinburgh Napier University are also closed for the day.
Jewel and Esk College has closed both its Edinburgh and Midlothian campuses due to the snow. It will reopen its Edinburgh campus on Wednesday.
Midlothian Council said all its leisure centres, libraries and social work centres would also remained closed on Tuesday and Wednesday.
The only exceptions to this are the Midlothian Snowsports Centre, which will stay open until 1600 GMT, and the Hawthorn Children's Centre, for people who can make their own way there.
The Midlothian Snowsports Centre is open to skiers and snowboarders but lessons and classes have been cancelled.
Midlothian Council has declared the situation a "severe weather emergency".
Waste collections have been suspended in the area.
The 5th and 6th year parent's evening at Penicuik High School in Midlothian on Wednesday has been cancelled due to the "uncertainty of the weather conditions".
All of the St Andrew's Day celebrations in St Andrew Square Garden, Edinburgh, including the Ceilidh Finale have been cancelled.
The sell-out Skerryvore concert which was scheduled for Howden Park Centre, Livingston, has been cancelled and will be rescheduled for a new date.
Lothian Buses said: "Due to further heavy snowfall some services are currently not operating their full route."
Supermarket Waitrose, which closed its Morningside branch four hours early at 1700 GMT on Monday said it would close early again on Tuesday if there was another dump of snow.
Edinburgh Castle is closed for a second day due to the snow.
Edinburgh Zoo managed to reopen by 1030 GMT after being closed on Monday due to the snow.
The zoo has free admission for St Andrew's Day.
An Edinburgh Zoo spokeswoman said: "Most of the paths have been cleared but make sure you are wearing sensible footwear because we are on a hill."
A Lothian and Borders Police spokesman said: "We are again reminding motorists they should only take their vehicles out if their journey is absolutely essential.
"Inconsiderate drivers are abandoning their cars in inappropriate places which is causing problems for other motorists, public transport and those who are struggling to clear the roads and keep traffic flowing.
"Others are not properly clearing their vehicles and then large deposits of snow are falling off, leading to hazardous driving for other road users."