Edinburgh Airport flights stopped by heavy snow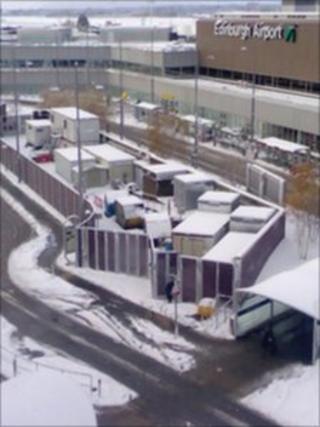 Fresh snow fall has caused Edinburgh Airport to be closed for the second time in 24 hours.
Some flights had been able to take off from the airport after it briefly reopened for four hours.
However, officials said the airport would be closed at 1800 GMT causing continued uncertainty for travellers.
Many passengers had to sleep on the floor of the terminal building as they waited for the weather to ease.
Hundreds of passengers queued at airline desks for further information.
A spokesman for operator BAA said the airport had "partially reopened" at 1400 GMT but had remained closed to arrivals.
Meanwhile, the M8 motorway was reopened at 1100 GMT near Junction 3, in West Lothian, after a lorry jack-knifed on the westbound carriageway at 0525 GMT.
All state schools in Edinburgh, Lothians and Fife are closed.
Many private schools in Edinburgh have also been closed.
These include George Heriot's School, George Watson's College, Edinburgh Academy, Clifton Hall School, The Mary Erskine School and Stewart's Melville.
St George's School for Girls is open in the capital but it is advising pupils not to attend.
The 5th and 6th year parent's evening at Penicuik High School in Midlothian on Wednesday has been cancelled due to the "uncertainty of the weather conditions".
One Edinburgh Airport passenger, whose morning flight to Orkney was cancelled, told the BBC Scotland news website: "There were passengers asking taxi drivers if they would take them all the way to London.
"There were people sleeping on the terminal floor.
"The airport bus service was severely disrupted with hundreds of people queuing.
"We didn't know what was going on, as there were no bus officials giving any information. It was chaos."
Edinburgh Castle has been closed due to the weather, however, the National Museum of Scotland has opened.
Lothian Buses said there would be delays to services and that some of its vehicles had already been diverted on routes in the city.
Supermarket Waitrose in Morningside announced it was to close early, at 1700 GMT.
An emergency 28,000 tones of salt arrived at Leith from Peru at about 1100 GMT.
Transport Scotland said it had 360,000 tonnes of salt and a further 100,000 tonnes on order, which would last for two months of heavy snow in Scotland.
It said the emergency supply of salt that had just landed in Leith would come at a "premium cost" to councils, with half being stored in Edinburgh and the other half in Aberdeen.
An Edinburgh's Christmas spokesman said: "Due to the adverse weather conditions, all of the St Andrew's Day celebrations in St Andrew Square Garden, Edinburgh, have been cancelled.
"The snow has damaged two of the marquees, creating a potential public safety issue, and with the extreme weather set to continue, all events, including Tuesday evening's Ceilidh Finale, have been cancelled."
Dr Bob McLellan, Fife Council's head of transportation services, said: "In total we have had in excess of 150 staff working round the clock since Friday.
"Our focus has been to keep all the main road and bus routes clear, as well as clearing footpaths outside main shopping centres to try and keep the pedestrian areas as accessible as possible for shoppers.
"Although it has been extremely busy, we are well prepared with salt and grit levels in good reserve. We will continue to monitor and take action to keep all main roads and bus routes as clear as possible."
All Midlothian Council schools, leisure centres, libraries and day care centres are to remain closed on Tuesday.
Midlothian Council has declared the situation a "severe weather emergency".
Efforts are being made to keep the Midlothian Snowsports Centre at Hillend open.
All state schools in Edinburgh, East Lothian, West Lothian and Fife are also closed on Tuesday.
Princes Mall in Edinburgh and some shops in the west end said they would not be following extended Christmas opening hours due to the heavy snow.
Michael Apter, West End Association chairman, said: "What is lacking is civic duty. If every shop cleared the pavement in front of their premises it would make life a lot easier.
"The council also needs to look at the pavements because they appear not to have been gritted and the snow is already compacting into ice on Shandwick Place and the road appears not to have been done either.
"This snow was not a big surprise as we knew it was coming so it really should have been cleared."
A spokeswoman for Jenners and Frasers department stores in Edinburgh, said: "We are keeping an eye on the weather and will make a call as to whether we should shut early later in the afternoon."
A spokeswoman for John Lewis said it was due to close at 1900 GMT but was keeping an eye on the weather.
Heriot Watt University has closed for the rest of the day as has Edinburgh Napier University. Edinburgh University and St Andrews University remain open.
Stevenson College in the capital has been closed all day and is not due to reopen until Wednesday.
One GP surgery, Kirkliston Medical Practice in West Lothian, is closed due to the weather.
Patients of that practice are being told to contact NHS 24.