'Ancient farm' found at site of new Forth Crossing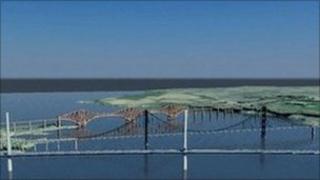 Archaeologists believe they may have unearthed the remains of a Neolithic farm on the site where the new Forth road bridge is to be built.
Trial trenches have been dug in a field on the outskirts of South Queensferry on land reserved for the planned Forth Replacement Crossing (FRC).
Archaeologists plan further excavations to confirm what they believe is an early version of a croft or small farm.
The discovery is not expected to affect construction of the new crossing.
Edinburgh-based Headland Archaeology (UK) Limited, which is conducting the dig, has also found what it believes to be the remains of a circular house and uncovered a number of items, including pieces of Neolithic pottery and a flint arrowhead.
The rare finds offer a glimpse of how the land was used 4,000 years ago.
Dr Noel Fojut, of Historic Scotland, said: "What we have got are one or two locations where there is quite interesting archaeology, but it's quite a limited area.
"If the area had been littered with incredibly important archaeology it would have been a bit of a problem for the road builders."
Crossing 'vital'
The archaeological team has been on site for about four weeks and hopes to have the work completed by Christmas.
Steven Brown, Transport Scotland's roads team manager for the FRC, said: "The Forth crossing is the biggest infrastructure project in Scotland for a generation and is vital to our economic future.
"But it is also right that we take the opportunity to find out more about this area's past and we are committed to ensuring Scotland's heritage remains as unaffected as possible by the delivery of major new infrastructure projects."
Finance Secretary John Swinney recently confirmed in his Scottish budget that plans were still on track for constructing a replacement for the Forth road bridge.
Subject to parliamentary approval of the Forth Crossing Bill, construction of the new bridge will begin in 2011.