Aerial acrobatics as Christmas lights switched on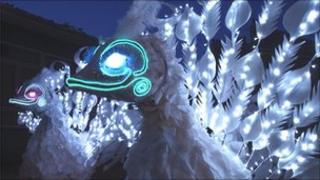 Edinburgh's Christmas lights have been switched on in an event including aerial acrobatics and fireworks.
French street theatre act Transe Express travelled from the bottom of The Mound up to the Christmas tree at the top.
Using a huge crane the acrobats appeared to put the lights on from 40 metres in the air.
Thousands of lights went on throughout Princes Street Gardens accompanied by a burst of fireworks.
Darkness falls
Christmas festivities got underway at 1000 GMT with the German market opening and the big wheel turning.
However, their lights were switched off at dark before being relit during the official Light Night event.
Street theatre acts, such as Balloonatic Elves and the Christmas Crackers had been telling jokes during the day.
Then, as darkness fell, two light-based acts, The Angels and The Birds, mingled with the crowds.
The special event marked the 25th anniversary of the iconic Christmas tree on The Mound, which is gifted annually by the people of Norway in recognition of the country's close relationship since WWII.