Jolomo to unveil new exhibition in Edinburgh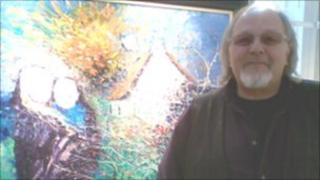 Scottish contemporary artist John Lowrie Morrison is unveiling a new collection of work depicting the Highland Clearances.
In a departure from his usual style, Jolomo, focuses on the politics of place and reveals connections through his roots in the Outer Hebrides.
Expulsion of the Gael goes on show to the public this weekend.
The exhibition is in the Lloyds Banking Group headquarters at the top of The Mound in Edinburgh.
Real people
The Glasgow-born artist will have 40 paintings on display.
He said: "I have been fascinated with the Highland Clearances since I heard first hand from my great aunt how our family were moved from the Isle of Harris in 1922.
"Vast numbers of Gaels were forcibly removed from their land in the 18th and 19th centuries.
"I wanted to tell their story through my paintings and drawings, marrying the landscape with tales of real people and their fight for survival."
The Highland Clearances, 'Fuadach nan Gaidheal', were the forced expulsion of the population of the Scottish Highlands, leading to mass emigration to the North American colonies.
With the collapse of the Clan system after Culloden, landlords wanted to clear their land to make way for extensive sheep farming and forestry.
Many of the expulsions were notorious for their brutality.