Leading horse trainer Peter Monteith found dead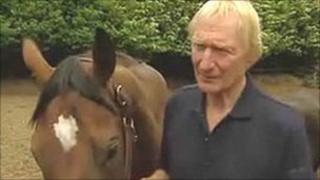 One of Scottish horseracing's leading trainers has been found dead at his home in Midlothian.
Peter Monteith was found on Sunday evening after an apparent suicide.
Lothian and Borders Police confirmed emergency services were called to an address in Rosewell. It said a 61-year-old man was taken to Edinburgh Royal Infirmary where he was pronounced dead.
Mr Monteith enjoyed his best season in 2007-08 with 34 winners. He had four successes so far this season.
He trained Dizzy to win the County Hurdle at the Cheltenham Festival in 1994, and had recently been saddling runners for leading owner David Johnson.
"I cannot believe it. I speak to him every week. It's just like a bolt out of the blue," said Mr Johnson.
"It's devastating news for all of Scottish racing and his family. It's just unbelievable and I haven't come to terms with it. You speak to him one day and the next he's not here anymore."
"I don't know the circumstances, but our thoughts at this time are with his wife."
Former Grand National-winning jockey Mick Fitzgerald told the At The Races TV channel that Mr Monteith was a "gentleman".
"That is the first word that springs to mind when I think of him," said Mr Fitzgerald.
"He was a really nice guy and a stalwart of northern racing."
The trainer had attended Kelso races on Sunday afternoon, where he had three runners.
'Hard to comprehend'
Mr Johnson added: "It's hard to comprehend what's happened.
"I spoke to a jockey who was riding for him yesterday, Wilson Renwick, and said he appeared to be in good form. He said Peter was pleased with how the horse (Raysrock) ran.
"There was no hint of anything, not as far as I was aware.
"It's a sad loss for racing and particularly Scottish racing. I had about a dozen horses with him and he's done very well.
"It's fair to say some of the horses were lesser lights, but he got his fair share of winners for me and kept me posted. He was a good trainer and he knew the time of day.
"It's a loss for me personally and there will be a lot of people who he will be a greater loss to - his family and his friends in Scotland. It's just so sad."