Frozen Union Canal driver given community service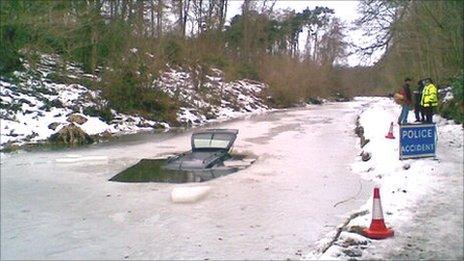 A man whose car plunged through the ice as he drove on a frozen canal in West Lothian has been sentenced to 200 hours community service.
Andrew Nisbet, 25, had earlier pleaded guilty to driving in a reckless manner on the Union Canal at Bridgend, West Lothian, on 11 January 2010.
At Livingston Sheriff Court, Nisbet's own lawyer said he was "the only person daft enough" to attempt the stunt.
Nisbet, from South Queensferry, said: "It seemed a good idea at the time."
Nisbet thought he could drive his W-reg Peugeot 406 from Philpstoun, West Lothian, along the frozen surface of the Union Canal into Edinburgh.
But less than a mile along, his car crashed through the ice, with Nisbet, his passenger James Naismith, 22, and Mr Naismith's West Highland terrier, Jimmy, nearly drowning in the process.
The trio just managed to scramble to safety, but the car sank and canal operators British Waterways had to bring in a 30-tonne crane to pull it out.
Nisbet, 25, labelled "mad" by police, "stupid" by his own lawyer, and "possibly insane" by one sheriff is also being sued for the £16,359 cost of the salvage.
John Beaton, prosecuting, told the court: "Given it happened in darkness, crews were required to work in freezing and dangerous conditions.
"An inflatable bridge had to be brought so they could access the vehicle and to see if people were still within it.
"Officers were on top of the ice causing a considerable risk to safety.
"Further police officers were asked to assist, and went to a property where the accused might be.
"The door was answered by a James Naismith, who said: 'I know why you're here. I was in the car with him.'
"He said he was the passenger."
Defence agent Raymond McMenamin said Nisbet, who was banned from driving in September for 15 months for driving without insurance and who had a list of previous convictions for other driving offences, was "the only person daft enough" to try such a stunt.
He said: "Mr Nisbet has never tried to shy away from culpability in this matter."
Sheriff Donald Muirhead told Nisbet: "You have shown criminal indifference on what effect your behaviour would have on other people.
"You just didn't care what effect what you were doing would have on others."
Nisbet said: "Things were just about OK until we got to a bridge and it was not properly frozen underneath.
"We must have been doing more than 30 miles an hour before we noticed the puddles up ahead.
"We decided to go for it anyway and the front end just gave way on the ice.
"It seemed like a good idea at the time."
Related Internet Links
The BBC is not responsible for the content of external sites.