Newborn seal pup found with cuts on East Lothian beach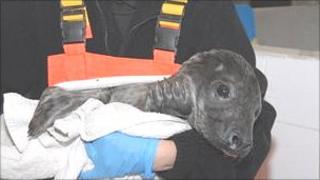 A newborn seal pup has been found underweight and covered in cuts on a beach in East Lothian.
The five-week-old male grey seal pup was rescued after a member of the public spotted the injured youngster stranded on the shore at Tyninghame.
The male seal is the first of many grey seal pups to be expected to cared for by the Scottish SPCA over the winter.
The animal welfare charity said people did more harm than good by picking up lone pups on the beach.
Abandon it
Colin Seddon, manager of the Scottish SPCA's rescue centre in Fife, said: "A mother grey seal will leave her pup on land while she is out feeding because it cannot swim very well until it has lost all of its white fur, which happens at around three to four weeks of age.
"If her pup is touched or moved then there is a good chance she will abandon it."
Mr Sneddon said the pup found on the beach had been named Splash.
He said: "When Splash arrived in our care he had some bruises and scratches on his body and he was underweight.
"He only weighs 16kg which is just over half of his ideal weight of 30kg."
Splash will be released back into the wild when he has reached his correct weight.