'Fingerprint' software to stem cyber crime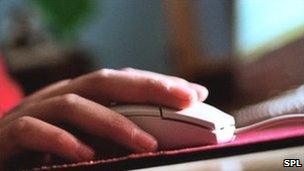 Revolutionary digital fingerprinting software invented by Edinburgh computer scientists could be set to stem the growing tide of cyber crime.
The technology, developed at Edinburgh Napier University, allows CCTV-style monitoring of online systems.
It digitally mimics the DNA matching process used in the real world.
The software, which will be on sale in six months, works out what classified data has been accessed by the hacker before alerting the company's managers.
The CCTV-style monitoring builds up a sequence of the hacker's activity.
It means cyber criminals can be tracked down in seconds, potentially saving companies worldwide millions of pounds every year.
The researchers have now created a company called Inquisitive Systems to market the software, GuardInQ.
The fledgling company has attracted £170,000 of new funding from private investors as well as a Smart:Scotland award and Seed funding package, both from Scottish Enterprise.
Inquisitive Systems has also been shortlisted at the recent Global Security Challenge summit in London on the back of its ability to fight cyber espionage and cyber terrorism.
Dr Jamie Graves, chief executive and co-founder of Inquisitive Systems, said: "Put simply, we can now track cyber criminals 24/7.
"The GuardInQ technology enables us to identify their digital fingerprints and prove that a certain person was behind illegal changes made to data, which gives a higher level of proof when it comes to prosecuting data crime."
He added: "It's like CCTV for computers and ultimately means a more rapid detection of security breaches, which means significant savings for organisations.
"Where others in the market can highlight that there has been a security breach, they fail to say who, what, when or why it happened. We can.
"We go to the heart of the matter, not only detecting criminal activity but intervening in real time to reduce cyber crime."
Related Internet Links
The BBC is not responsible for the content of external sites.