Festival to launch before films are announced
By Angie Brown
BBC Scotland, Edinburgh and East reporter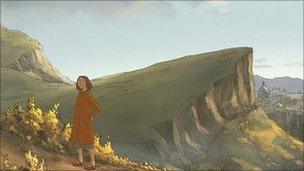 The Edinburgh International Film Festival could be launched months before films are confirmed in a bid to stem a slide in ticket sales.
The move, which would see tickets for gala events on sale before films are announced, comes after ticket sales dropped by 10% on last year to 44,456.
Gavin Miller, CEO of CMI, the firm which runs the festival, said he was "disappointed" by this year's sales.
He blamed the festival's late launch for the box office decrease.
Mr Miller told the BBC Scotland news website he wanted to "engage" with his audiences earlier in the year ahead of the film festival, which is now held annually in June.
He said: "We probably launched too close to the film festival itself, which didn't give people enough time to plan and buy tickets and that was what affected sales.
"We were quite late in securing some films due to the Cannes Film Festival being held in May so we wanted to wait to see what films we had secured before launching.
"My view for next year would be to launch earlier to get on the radar earlier.
"A significant proportion of our audiences have built up a trust with us and therefore come every year so my view is to engage with them earlier in the year.
"It would be more of a tease and reveal over what film they had bought the ticket for.
"I am disappointed by this year's sales but I am not unduly concerned because I know we can start communicating earlier next year."
The Edinburgh International Book Festival was down by about 5% on ticket sales with 114,818 tickets sold, compared with 120,790 in 2009.
Nick Barley, Edinburgh International Book Festival's director, said: "I was very pleased with the level of ticket sales which demonstrates that despite the uncertainty in the economy, arts and culture continue to play a vital role in people's lives."
The Edinburgh Mela Festival saw an almost 30% rise in ticket sales this year compared with last year, which saw 20,320 tickets sold.
Stephen Stenning, director of the Edinburgh Mela, said: "These numbers reflect the Mela's success in attracting large numbers to ticketed events, even when most people are tightening their belts.
"Credit is due to Liam Sinclair, Mela director until recently, for his achievements.
"The Mela will continue to offer high quality, innovative and entertaining artistic performances at prices that are affordable, helping those on lower incomes access and enjoy the arts."
Meanwhile the Royal Military Tattoo, Edinburgh Jazz and Blues Festival and Edinburgh International Festival sold about the same tickets this year compared with last year.
More than half a million visitors attended events at this year's Edinburgh Art Festival.
The number represents the highest to date for the festival, set up in 2004.
Estimated figures for the number of people at the Edinburgh Festivals' Cavalcade showed a 33% rise from 75,000 in 2009 to 100,000 in 2010.
The figures were release by Edinburgh City Council.
Earlier this year organisers of the Edinburgh Fringe defended their decision to count customers of free shows in their box office sales.
They claimed almost two million tickets had been sold for 2010's event, a 5% increase on the previous record breaking year.
However, it emerged that some venues offering free and unticketed shows were included in the figures.
Related Internet Links
The BBC is not responsible for the content of external sites.