'Miracle' cat survives Fife car strike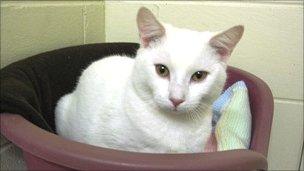 The owners of a white cat found with a bloody nose and a swollen face in Fife are being sought.
The cat, named Humphrey by animal welfare officers, is believed to have been hit by a car.
Humphrey is being cared for by the Scottish SPCA at its rehoming centre in Dundee.
About three or four years old, he was found in Kinglassie, Glenrothes on Sunday "absolutely petrified and probably in shock".
Kieran Smart, of the Scottish SPCA who was called out to rescue the cat said: "When I arrived he was absolutely petrified and was probably in shock.
"He had a bloody nose and his face was swollen so it was clear that he had been hit by a car.
"It was a miracle that he survived the accident, he's definitely lost one of his nine lives.
"He's really friendly and he was very clean so it doesn't look like he has been a stray.
"I'm sure there's someone out there who is missing him terribly so we'd like to reunite him with his owner as soon as possible."
Related Internet Links
The BBC is not responsible for the content of external sites.