Oil explorer Bowleven swings into profit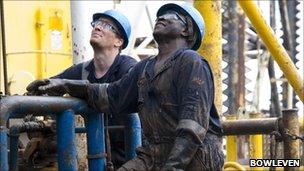 Edinburgh-based oil and gas explorer Bowleven has reported a profit of £12m on the back of a gain on the foreign exchanges.
The company, which is focused on West Africa, said it was "well-positioned" to fund its current work programme.
Bowleven, which operates mainly in Cameroon, has a cash balance of £49m and expects a further gain from the sale of its EOV field in Gabon.
Shares in Bowleven have gained nearly 50% since July.
That followed the news that it had found hydrocarbons at its IE-3 well in Cameroon.
In March, Bowleven had said it would dispose of its entire stake in its EOV field for about £22m.
Related Internet Links
The BBC is not responsible for the content of external sites.