Good diet 'improves looks more than make-up'
By Eleanor Bradford
BBC Scotland Health Correspondent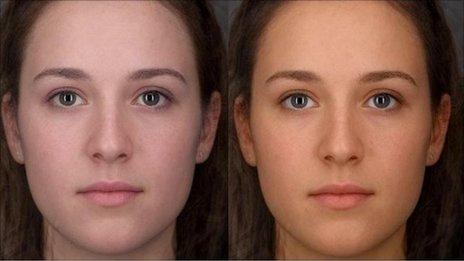 Eating a healthy diet and exercising regularly can do more to make you good-looking than cosmetic surgery or make-up, according to academics at St Andrews University.
Their research on what people find attractive suggested people can pick up on subtle changes to skin colour and preferred hues which reflect a healthy lifestyle.
"What we're finding is that an attractive skin colour is one that is slightly red, slightly increased in yellowness and is lighter than normal," said Dave Perret, psychologist and author of "In Your Face: The new science of human attraction".
"That combination is probably due to diet and exercise: exercise increasing the blood flow and diet changing the chemical composition of our skin."
"They're presented with a screen with somebody's face and they're able to change the colour," PhD student Ross Whitehead explained, as he showed me one of the computer programmes.
"In this instance they're able to manipulate the face's yellowness.
"We find that from the original starting colour of the face, they choose to slightly increase the yellowness to improve the appearance."
These experiments suggested that, irrespective of race or colour, people consistently preferred faces that were slim, light in colour, with red and yellow hues.
These gave a healthy, warm appearance.
People particularly disliked fat faces with a pasty, "unhealthy" appearance.
Dave Perrett's advice to anyone wanting to make themselves more attractive is to change their lifestyle, rather than have cosmetic surgery or buy expensive clothes and make-up.
"Changing diet and lifestyle could have a greater benefit to appearance, and in that sense be more cost-effective," he said.
The team at St Andrews University are now investigating whether their results could be used for more effective health campaigns to show people the instant benefits of a healthier lifestyle.
Related Internet Links
The BBC is not responsible for the content of external sites.