Dog found inside taped cardboard box in Edinburgh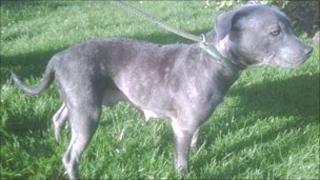 A dog has been found taped up inside a cardboard box which was dumped at the gates of a golf course in Edinburgh.
The female Staffordshire bull terrier crossbreed was discovered by a member of the public on Sunday outside Braid Hills Golf Course.
The dog, which has been named Roe, is now being cared for at the Scottish SPCA's Edinburgh and Lothians Animal Rescue and Rehoming Centre.
Insp Tracy McNaughton, of the Scottish SPCA, said it was "very cruel".
She said: "This was a very cruel abandonment which we believe occurred overnight.
"Roe had managed to chew her way out but was curled up in the box, shaking and extremely distressed when she was discovered. Thankfully, she hadn't run out onto the road and been knocked down.
"While she may have been abandoned by her owner, there's also a chance she's been stolen and whoever did so no longer wanted her.
"We believe she's about three or four years old and know she's had several litters of puppies in the past.
"It could be that her owner used her for breeding or that's what she was stolen for.
"She is also quite thin so she wasn't looked after properly before she was abandoned."
Abandoning an animal is an offence and anyone found guilty faces being banned from keeping animals for a fixed penalty or life.