Flatmates held during armed raid on Edinburgh home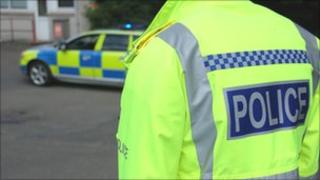 Six friends are recovering after being forced out of their beds and held in a room during an armed raid on their Edinburgh home.
Two men, who were carrying knives, entered the Salamander Court home in Leith at about 0930 BST on Sunday.
A 22-year-old man, who was punched in the face during the ordeal, managed to escape out of a window to alert police.
The thieves fled with money, a laptop and mobile phones before officers arrived.
A Lothian and Borders Police spokesman said: "Although no-one was seriously injured, this will have been a terrifying ordeal for everyone involved.
"We are appealing for anyone who may have information regarding this incident to come forward.
"We would also like to hear from anyone who may have been in the area at the time and who may have seen the two men, one of whom would have been carrying a laptop computer."
The six friends are all aged in their early 20s.
The suspects are described as being white and in their mid 20s.
One was 5ft 9in, of slim build, with short dark hair and was wearing a dark or grey-coloured top and jeans.
The other was 5ft 10in, of stocky build, with lighter coloured hair, and was wearing grey jogging bottoms and a grey top.
Less than two hours later a man brandishing a knife robbed a newsagent on Leith Walk.
The assistant handed over a three figure sum of cash, and a quantity of cigarettes, to the thief who had a scarf round his mouth.
He is described as being in his mid 30s, about 5ft 10in, of slim build, with a tanned and unshaven complexion and dark hair.
He was wearing a black and grey hooded top with the hood up.