Escaped snake spent year on Fife streets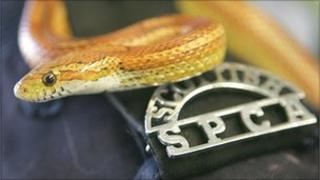 An escaped snake has been reunited with her owner after a year slithering about the streets of Fife.
Onyx, a four-year-old female corn snake, disappeared from Billy McAndrew's home in Canmore Street, Kinghorn, in October 2009.
Despite hunting for the snake, the 40-year-old gave up hope of ever finding her again.
But almost a year after she disappeared she has been found in a garden only a few streets away.
Distinctive markings, including the horseshoe shape on her head and chequered pattern on her belly, meant the snake was able to be identified.
Mr McAndrew said: "I wasn't holding out much hope that it would be Onyx because she had been missing for such a long time.
"But she has very distinct markings, so when I described the horseshoe shape on her head and chequered pattern on her belly, the lady went away to check and came back and said 'yes, it was a match'.
"I was delighted and went straight up to collect her that afternoon.
"It's pretty amazing that she managed to survive that terrible winter we had last year.
"I can only imagine she must have found somewhere warm to curl up and hide."
It is not the first time Onyx has gone missing. Mr McAndrew got her two-and-a-half years ago after she was found slithering along King's Road in Rosyth.
He added: "She's very small and thin for her age, which is probably a result of her living outdoors and trying to fend for herself, so I'll be encouraging her to eat over the next few days and helping her settle into her vivarium with some new heat laps and some heavy duty padlocks."