Heavy rain blamed for castle rock fall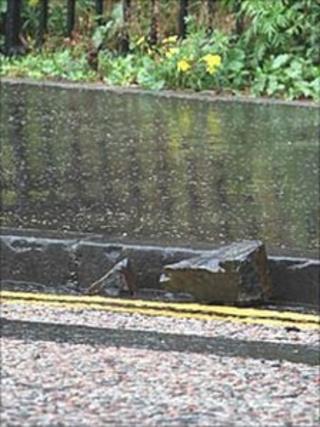 Heavy rain has been blamed for a rock the size of a "loaf of bread" falling from Edinburgh Castle rock face.
Historic Scotland, which manages the site, said "torrential rain" had dislodged the rock at about 1100 BST on Thursday.
The rock fell onto Johnston Terrace, which has now been closed on public safety grounds.
No-one was injured. Historic Scotland said it was unclear how long the road would remain closed.
A witness said the rock was about the size of a "loaf of bread".
A spokeswoman for Historic Scotland said: "The road was closed at Johnston Terrace earlier due to a small rock being dislodged by torrential rain.
"Immediate steps were taken in conjunction with Edinburgh City Council and the police to close the road to traffic and pedestrians.
"It will remain closed until a thorough inspection of the rock face is carried out."