Edinburgh teenager jailed over phone sex sting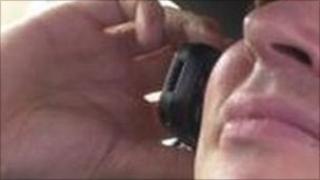 A teenager from Edinburgh who admitted extorting £87,700 from men who used sex chat lines has been jailed.
Kelz Sutherland, 19, was involved in a sting which threatened to expose men who had been tricked into talking about under-age sex.
He was caught after one victim refused to pay and contacted the police.
Sentencing Sutherland to 45 months behind bars, Sheriff Deirdre MacNeill QC told him his behaviour had been "despicable".
Sutherland pled guilty last month to nine charges of extortion dating from 1 January 2008 to 31 December 2009.
The scheme involved blackmailing men, aged between 32 and 65, from all over Britain, for cash.
Police later found personal details of the men, including their telephone numbers, home addresses, and places of work on his lap-top computer.
Expose callers
There were also details of various bank accounts.
When the men, who included teachers, an IT contractor, a railway manager and the company secretary for a charity, dialled the chat line, they were put through to Sutherland in his bedroom in Portobello.
During their chat there were conversations about under-age sex with girls and boys.
Using a different voice, he then "interrupted" the call claiming he was the chat line monitor and that the conversation was illegal and would be reported to the authorities.
After obtaining personal details from the men, Sutherland said the calls had been recorded and threatened to expose the callers to their family, friends or employers, but indicated this could be avoided if they paid for the recordings to be wiped.
Police also found details of a Lloyds TSB bank account in the name of Sutherland's mother which had about £134,000 paid into it.
When she was interviewed she said her son had sole use of the account.
Ms Sutherland denied any knowledge of the blackmail scheme and was released without charge.