Bowls champ Willie Wood doubts Scots will go to Delhi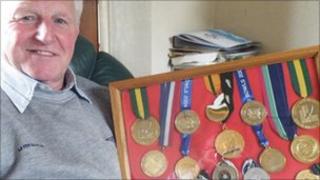 The most senior member of Scotland's Commonwealth Games squad has said he doubts the team will go to Delhi.
Bowler Willie Wood is due to be taking part in a record eighth Games.
But the 72-year-old - who visited Delhi earlier this year - told BBC Scotland that conditions in the athlete's village meant it wouldn't be fair to expect competitors to talk part.
He said he still hoped it might be possible to go, but added: "It doesn't look good at the moment."
Wood, who lives near Haddington, first represented Scotland at Commonwealth Games level in 1974, when he won bronze.
Since then he has added two golds and a silver to his medal collection, as well as a raft of gongs from the World Championships.
He went to Delhi in April this year to take part in a small-scale bowls competition, to help officials judge how facilities would cope with the full-scale Games.
"We visited the village, and it was a building site then," he said.
"I'm not a builder, but I thought they'll never have this ready in four months."
Departure delayed
He says organisers were promising a brand new highway from the athlete's village to the main arena, but work on its construction had not started.
The Commonwealth Games Council for Scotland said team managers already in India had described accommodation in the village as "filthy" and "not fit for human habitation."
Wood told BBC Radio's Good Morning Scotland programme that he did not think the athletes should be going if it was not safe.
The first 41 members of Team Scotland had been due to fly for Delhi on Thursday, but their departure has now been delayed.
Wood is due to leave on Saturday, but he said: "I don't think we're going to be flying."