Man jailed for killing brother in fight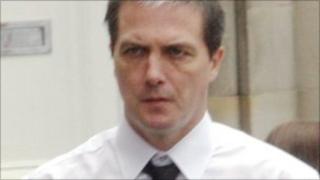 A man who stabbed his brother to death in a fight following a drinking session has been jailed for four years.
Lord Tyre said Alistair Thomson, from Crossgates, Fife, had suffered "extreme provocation" before he stabbed John Pickersgill, who he was "close" to.
However, the judge told the 43-year-old that he had to impose a custodial sentence because of the "deliberate aspect" to the crime.
Thomson earlier pled guilty to a charge of culpable homicide.
After the fight he told police: "I didn't mean to kill him."
The court had heard that the brothers had been drinking at a friend's house in Cowdenbeath in the hours before the killing.
They then started fighting, with Thomson suffering a head wound which required 20 stitches.
Prosecutor John Scullion said: "The deceased and the accused then entered the kitchen.
"The deceased was seen to leave the kitchen and enter the living room, followed by the accused.
"The accused stabbed the deceased once to the abdomen with a knife."
Mr Pickersgill, 43, died from internal bleeding.
The court was told the family was still supportive of Thomson.
Herbert Kerrigan QC, defending, read out a letter from a relative which said the brothers "loved each other to bits" but that it was "a different story" when they were drinking.
Mr Kerrigan added: "This is a wholly unique and particularly tragic case."
Passing sentence, Lord Tyre said: "Although it is accepted that you did not have the wicked intention to kill which would have resulted in a charge of murder, you have intentionally inflicted a knife wound which was sufficiently severe to cause death."