Susan Boyle enters Guinness record books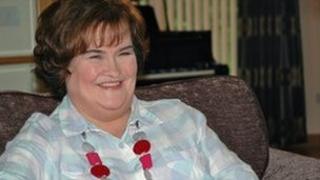 Scottish singer Susan Boyle has been given three different entries in the new Guinness World Records book.
Her debut album I Dreamed A Dream was the fastest selling album by a UK female and also had the most successful first week's sales of a UK debut album.
Boyle, who shot to worldwide fame after appearing on a TV talent show, was also the oldest person to reach number one with a debut album.
The singer, from West Lothian, was 48 when her album went to the top spot.
It broke the record set by then 35-year-old Jane McDonald in 1998.
Boyle said it was a "real honour" to appear in the Guinness World Records.
She said: "I used to read this book as a wee girl. I never dreamt that one day I would actually appear in the Guinness Book of Records.
"I only ever wanted to sing and perform. This is truly fantastic."
Her debut album sold 411,820 copies in its first week in the UK - almost 50,000 more than the previous record holder Arctic Monkeys.
Other singers to make the new edition of the famous book of records include Sir Tom Jones, the oldest artist to have a number one single, and Lady Gaga, who was crowned the most searched-for woman on the internet.