Appeal as gull shot with crossbow in Fife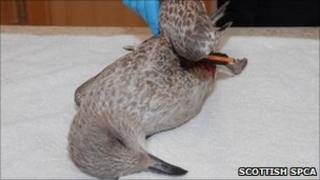 Animal welfare officers are appealing for information after a gull was shot with a crossbow in a built-up area of Kirkcaldy.
The Scottish SPCA was alerted to the incident after a member of the public found the injured bird alive.
It was taken to a local vet where it was put to sleep due to the severity of its injuries.
The animal welfare charity said it was a "sickening attack" which would have caused the bird a lot of suffering.
Senior Inspector Steven Gray said: "The injured gull was found on Templehall Avenue in Kirkcaldy and had been shot by a crossbow pistol.
"The bow had gone through the bird's wing and was still stuck in its body. The gull's wing was totally shattered and, as a result, the vet's only option was to humanely destroy the bird."
He added: "This incident is cause for concern as someone has used a crossbow pistol in a built-up area and could injure other animals or even people."
The charity said anyone with information should contact Kirkcaldy Police or the Scottish SPCA animal helpline.