Naked 'Narcissus' statue stolen from Falkland Palace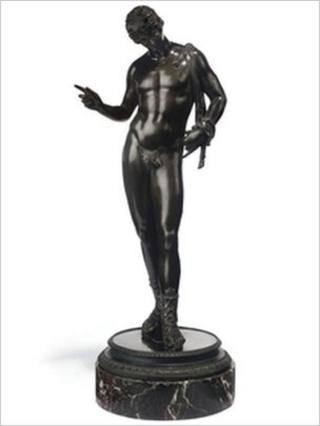 A bronze statue has been stolen from Falkland Palace in Fife.
Fife Constabulary said the 18-inch naked youth Narcissus was taken from inside the palace as guided tours were led through the building.
The theft is thought to have happened sometime between 1000BST and 1400BST on Thursday.
Police said they were keen to speak to anyone who had visited the palace and who may have witnessed anything suspicious.
Det Sgt Alan Stewart said: "Guided tours were conducted over the period of the theft and there were over 140 visitors to the palace on the day.
"We are keen to hear from anyone who may have attended Falkland Palace or been in the vicinity and witnessed any suspicious activity, the statue is a heavy item and would have been awkward for someone to carry even a short distance."
Mr Stewart said he was also keen to hear from anyone in the antiques or scrap metal trade who may have been offered the statue for sale.