Pope brings cheer to Edinburgh streets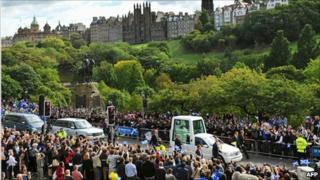 On the streets of Edinburgh it felt like they were preparing for the arrival of a pop star.
School pupils from all over Scotland had gathered to cheer an unusual idol in 21st Century Britain.
They had come to salute an 83-year-old man from Bavaria - Pope Benedict XVI.
"I can't wait to see him come past," said Matthew Tait, a fifth-year student at St Columba's High School in Dunfermline, Fife.
"I can't wait to wave the flag. We feel very proud to be Scottish right now."
"I think it's really important'" said Matthew's fellow student Zoe Gruber. "It's the first state visit in a long time and it's nice to be part of that."
Third-year pupil Patrycja Wenta was also enjoying herself.
"The atmosphere is amazing," she said. "Everyone is excited. Everyone is jumping."
They were. And as the minutes went by, the throng increased in number.
Tourists and locals stood side-by-side, the devout and the curious mingling in the bright autumn sunshine.
In a crowd estimated by Lothian and Borders police at 125,000, there were very few protesters.
Outside Waverley Station, a handful of Americans held a banner bearing pictures of alleged victims of child abuse.
They were powerful images of young children.
Pointing at one angelic little girl wearing a confirmation gown, Therese Albrecht said: "I had been raped for almost a year by the time this photograph was taken." The photograph showed her as an eight-year-old girl.
"More needs to be done. Much more needs to be done, because kids are still at risk today."
Unforgettable day
On the streets, there was some sympathy for the protesters but the vast majority of the enormous crowd were unaware of any demonstrations and had simply come out to celebrate.
Suddenly their moment arrived.
As the Popemobile came into view, a cheer went up.
The vehicle was surrounded by security officers. Some were forced to widen their strides to keep up with the brisk pace.
Above them, behind bulletproof glass, the Pope glided serenely along Princes Street, smiling and blessing the crowd.
For the faithful, it was a day not to be forgotten - the day tens of thousands stood side by side united by their common faith.
Bob Smith, 64, converted to Catholicism from the Church of Scotland when he was 27.
He had made the short journey across Edinburgh by bus.
Mr Smith, who worships at St Ninian and Triduana Roman Catholic Church in Edinburgh, summed up the reception.
He said: "Great weather. Fantastic parade. A nice friendly welcome. We're a hospitable nation I think, and we showed that today."