Glenrothes death crash van driver avoids jail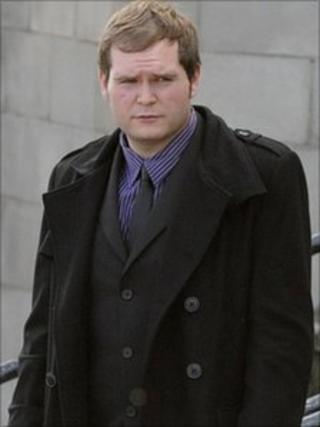 A Fife Council van driver whose vehicle mounted a pavement and killed a woman at a bus stop has avoided prison.
Sean Medeiros, 25, from Glenrothes, drove into Margaret Farmer, 66, after getting his arm stuck in the steering wheel and losing control of the van.
At Kirkcaldy Sheriff Court, he pleaded guilty to causing her death by careless driving in Glenrothes last April.
He was ordered to carry out 180 hours of community service and banned from driving for a year.
The court heard that the accident happened while maintenance worker Medeiros and his colleague William Paterson were in the van on their way to a job on 21 April 2009.
Mark McGuire, prosecuting, said: "The van mounted the pavement and headed directly towards the bus shelter where Mrs Farmer was standing a short distance away, and she was struck by the van as it continued forwards.
"Whilst this was happening, Mr Paterson heard the accused repeatedly asking, 'Why is it not stopping?'."
When cautioned by police, Medeiros said he had lost control of the van as he reached for a set of keys that had slid along the dashboard.
He said: "My wrist got caught in the steering wheel as the wheels corrected. The van mounted the kerb and kept going."
'Failed to respond'
Mr McGuire said that a police investigation had found nothing wrong with the van's brakes or tyres.
The depute fiscal added: "The officers concluded that the accused, having caught his arm in the steering wheel, either panicked or failed to respond quickly enough to stop the vehicle.
"They opined that had the accused braked appropriately as soon as he was aware that his hand had become trapped, the collision may not have occurred."
Jamie Gilchrist, QC, defending, said: "His perception is that it happened very quickly. He cannot explain why he could not stop.
"He simply froze. I think it's fair to say this was a freak set of circumstances."
Passing sentence, Sheriff James Williamson admitted that Mrs Farmer's family may "struggle to understand" his decision not to jail Medeiros.
"In this case, you were not playing with your mobile phone or lighting a cigarette," he told him.
"The distraction was caused by keys falling across the dashboard.
"One of the consequences of that was that this lady lost her life, and I'm sure you are aware of that."