Papal visit: Final preparations under way in Scotland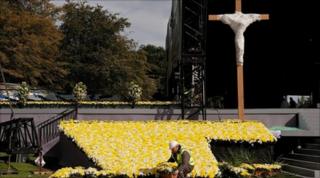 The final preparations are under way in Glasgow and Edinburgh ahead of Pope Benedict XVI's state visit to the UK.
Drivers are being warned to expect delays because of road closures and parking restrictions in Scotland's two biggest cities.
The Royal Regiment of Scotland has been rehearsing its guard of honour at Edinburgh Airport, where the Pope will arrive for the four-day visit.
Flowers have been placed around an altar at Glasgow's Bellahouston Park.
The Pope will celebrate a Mass there before about 65,000 worshippers on Thursday evening.
In the morning he will fly from Rome into Edinburgh, where about 100,000 people are expected to line the capital's streets.
The head of the Roman Catholic Church will travel in his popemobile through Edinburgh after meeting the Queen at the Palace of Holyroodhouse.
Pope Benedict will then travel to Glasgow for the Bellahouston Park Mass.
On Wednesday, choirs practised in Bellahouston Park where flowers, in the Vatican colours of yellow and white, were crafted into a display at the foot of the specially-built altar.
Officials at Edinburgh Airport, where a drill was taking place for the Pope's arrival, expressed worries that they might not be able to use the red carpet because of high winds.
During the dress rehearsal winds were gusting up to 25 miles an hour, which meant it was impossible to hold the carpet in place.
For the visit, many roads will be closed to traffic and Glasgow transport chiefs have warned that the northbound carriageway of the M77 will be closed between junction 2 (Pollok) and the M8 at junction 22 from 0930 BST on Thursday until early the next day to provide coach parking.
Streets around Bellahouston Park will be closed from Wednesday.
On the trains, some services will be cancelled on Thursday to provide more seats on other trains into Glasgow, and for a shuttle between Glasgow Central Station and Dumbreck, close to the park.
Pope Benedict is due to arrive at Edinburgh Airport at 1030 BST.
He will then travel along Glasgow Road, Corstorphine Road, the Western Approach Road and Regent Road on his way to the Palace of Holyroodhouse, in a huge convoy comprising 15 cars surrounded by police motorbikes.
The Queen will officially receive the Pope at the palace at 1100 BST, followed by a reception in his honour in front of 400 guests.
Meanwhile, a St Ninian's Day Parade will travel through the streets of Edinburgh, led by boxer Ricky Burns.
The parade, featuring 1,000 pipers, 800 children and a pageant of historical characters, will go along Abbeyhill, Regent Road, Princes Street and Lothian Road.
Pope Benedict will travel the same route in his popemobile from 1230 BST.
His 3.5 mile (5.6km) journey will bring him to Cardinal Keith O'Brien's house in the Morningside area of Edinburgh at 1300 BST, where he will stay for about three hours.
A convoy of cars will then take him along Comiston Road to the city bypass and on to Glasgow.
Police officers will be stationed on every one of the 58 foot bridges over the M8, stopping pedestrians or well-wishers from congregating on them.
The Pope is due to arrive in Glasgow for a Mass at Bellahouston Park at 1715 BST.
The 83-year-old pontiff is to speak in front of a gathering of up to 85,000 pilgrims.
A large number of pilgrims attending the Mass will be taken by shuttle bus to terminals at either Albion car park in Ibrox or Dumbreck Roads before walking to Bellahouston Park.
The pontiff leaves Glasgow Airport in a flight bound for London Heathrow at 2000 BST.
An area outside The Usher Hall in Edinburgh and another in Mosspark Boulevard in Glasgow have been designated for protesters who have made themselves known to the police before the events.
BBC One will be covering the event with live coverage from 1000 BST.
The trip is classed as a state visit, unlike in 1982 when Pope John Paul II came to the UK on a pastoral visit.
About 1,200 police will be covering the visit to Edinburgh and Glasgow, some of them armed. The Pope will also have Vatican security guards with him.
Police have estimated it will cost about £1.5m to cover the four-day event, which also sees the Pope visit London and Birmingham.
In Edinburgh, Princes Street will be closed from 0430 BST on Thursday until 1500 BST with east/west traffic being diverted via Queen Street.
The Mound/Hanover Street route will be closed from 0915 BST on Thursday until 1500 BST, but North and South bridges will remain open.
There will be some disruption to roads as the Pope is driven from Edinburgh Airport in the morning to the Palace of Holyroodhouse, with the police holding back traffic at junctions.
The roads will, however, be immediately reopened once he has passed through.
Council officials have stressed there will be no opportunity to view the Pope at Edinburgh Airport or on the route to the Palace of Holyroodhouse or on his arrival at the palace.
Spectators will also be unable to see the popemobile from south Princes Street or from The Mound to South Charlotte Street as the area will be used by children taking part in the St Ninian's day parade.
Princes Street Gardens (east and west) will be closed from early morning until late afternoon on Thursday.