Sick Kids Friends Foundation cleared of misconduct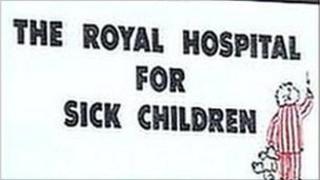 The Sick Kids Friends Foundation, which set up an Edinburgh charity that was closed down following a finances probe, has been exonerated of any wrong doing.
A report by the Office of the Scottish Charity Regulator "found no evidence of misconduct" in its investigation.
The New Pyjamas campaign, set up to raise £15m for a new hospital, closed with immediate effect in March over management and finances problems.
The charity is now to talk with NHS Lothian about starting a new campaign.
All 10 New Pyjamas staff were made redundant.
The campaign was launched in September 2008, but in February Scotland's charity watchdog was brought in to investigate.
The campaign's chairman, Graeme Millar, quit in February and its director, Elaine McGonigle, was suspended.
In its findings, the charity regulator did, however, make specific recommendations in its report "intended to strengthen the governance of the charity".
It has been claimed that £500,000 was spent on fundraisers for New Pyjamas, but just £60,000 had been brought in, raising questions about the financial situation.
The campaign was set up to raise £15m for new children's hospital at Little France to pay for equipment and research facilities outwith standard NHS budgets.
The Royal Hospital for Sick Children is due to move from its current site in Sciennes in 2013.
A spokesman for the Sick Kids Friends Foundation said: "We accept the findings of the report and are glad that OSCR has indicated the matter is now closed.
"OSCR concluded that there was no misconduct in the administration of the charity by our trustees and the report's recommendations on governance issues are already being implemented.
"We are disappointed that the New Pyjamas campaign was unsuccessful, however the Sick Kids Friends Foundation has an outstanding track record in its own right and has raised in excess of £15m during its lifespan.
"Working closely with our stakeholders and supported by the ongoing generosity of the public, we remain committed to supporting the delivery of a world-class hospital serving children and young people both in Edinburgh and across Scotland."