UK's 'oldest woman' Annie Turnbull dies aged 111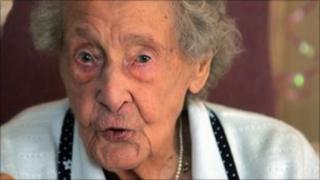 A woman who was believed to have been the oldest person in Britain has died at the age of 111.
Annie Turnbull was born in Lanarkshire on 21 September 1898, when Queen Victoria was on the throne.
Brought up in West Lothian, Mrs Turnbull moved to Edinburgh when she was 16 to become a housekeeper. She retired in 1974 at the age of 76.
She died at Victoria Manor care home in Leith on Friday, two weeks short of her 112th birthday.
When asked about the secret of her longevity, Mrs Turnbull had answered "keeping calm".
In her lifetime she lived through two world wars, 22 prime ministers and six monarchs.
During her time in service she worked at private residences where she met the likes of novelist Rudyard Kipling and actor Gordon Jackson.
'Pleasant life'
Her son-in-law, Bill Paterson told BBC Scotland: "She came into Edinburgh to work when she was 16. We were talking about this the other day.
"She would get on the train and somebody was there with a horse and cart to pick her up off the train to take her to her first place of service.
"She was in service most of her days."
Mrs Turnbull lived without hot water until she was 92, when she moved into sheltered housing, and never once left the UK.
Mr Paterson added: "When you listened to her talking, and the stories that she told, she had a very pleasant life.
"She never really talked about hardships, she only talked about the great times that she had."
At the time of her death, Mrs Turnbull had two daughters, four grandchildren and seven great grandchildren.
Her funeral will be held on Saturday at Seafield Crematorium at 1100 BST.
In her death notice, her family wrote: "Ann had not long gained the title of Britain's eldest person at 111 years.
"She was honoured, but did not know what all the fuss was about, she was not anyone special.
"We beg to differ."