Study into volcanic ash cloud effects planned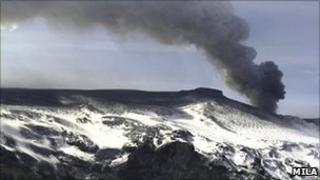 A £430,000 research project into the effects of Icelandic volcanic activity on Scotland is to begin in October.
Dr John Stevenson from the University of Edinburgh will investigate Iceland's volcanoes in an effort to improve forecasts of the type and direction of ash clouds after eruptions.
Dr Stevenson was awarded the funding by the Royal Society of Edinburgh.
There was widespread disruption to Scottish airports in the spring after volcanic ash drifted over from Iceland.
Dr Stevenson told BBC Scotland's news website that Met Office simulations of ash clouds depended on the quality of information about an erupting volcano.
He added: "I will be looking at what type of ash we can expect to reach us from different types of eruption. The ash can range from dust to the size of sand particles.
"The smaller ash can travel further so we want to know how high the ash is going, how quickly it is going out and its size."
Dr Stevenson will be collaborating on his five-year project with the British Geological Survey and other volcanic experts.
Research grants
The research is among more than 50 projects which have received grants totalling £4.2m through the Royal Society of Edinburgh this year.
Others to benefit from awards include Prof David Heald at the University of Aberdeen, who will carry out research into improving the quality of public expenditure.
A grant has also been awarded to Ann Attridge, who is based at the University of Strathclyde. Her company K2L is to offer cutting-edge interactive educational software.
The Royal Society of Edinburgh channels funds from a number of partners, including the Biotechnology and Biological Sciences Research Council (BBSRC), the Science and Technology Facilities Council (STFC), BP, Lloyds TSB Foundation, Scottish Enterprise, the Scottish government and the European Commission.
Several of its awards provide top academics committed to creating spin-out companies with a year's salary, business training, a development fund and access to network of mentors, experts and advisers.