Plan for 20mph zone in Edinburgh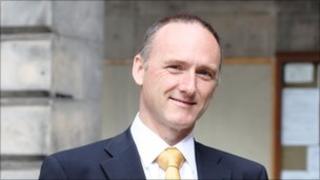 Edinburgh's transport leader admits having had speeding tickets but said he still believes turning the city into a 20mph zone would be a good idea.
Gordon Mackenzie told the BBC Scotland news website he was a "normal driver" who sometimes drove a bit faster than he should.
However, he said he had no doubt a £100,000 pilot scheme to cut drivers' speed in the city, would be a success.
Councillors meet later in the month to decide on the proposals.
If the plans get the go-ahead, 25 miles of Edinburgh's roads, from Arthur's Seat to Blackford Hill, will have a reduced speed limit of 20mph.
There would be 12 miles of major road within that area which would retain the 30mph speed limit.
'Sensible move'
The pilot would be implemented next year and run for between six to 12 months.
Mr Mackenzie said: "I've had speeding tickets. Sometimes you drive a bit faster than you should, I'm a normal driver.
"But I think this would be a very sensible move and I have no doubt in my mind that it would work.
"I read in a trade journal about it being implemented in Portsmouth and how there was a 15% reduction in accidents resulting in injuries, so I discussed it with officers and i said i would like to do it in Edinburgh."
Under the plans there will be no speed bumps added to roads or extra police officers monitoring the zone.
If the pilot showed drivers were adhering to the 20mph signs and were reducing their speeds it would be rolled out across the city.