Profits leap for Edinburgh salmon farming company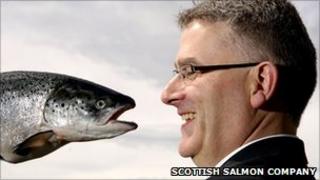 A salmon farming company which was saved from collapse two years ago has reported a big leap in profits.
The Edinburgh-based Scottish Salmon Company saw first-half pre-tax profits rise year-on-year from £1.7m to £12.1m, while turnover doubled to £42.6m.
The firm said its results were boosted by favourable market conditions and continuing strong demand for salmon.
Formerly known as Lighthouse Caledonia, the company was saved in 2008 by an investment deal worth £17m.
The firm said it was "well within reach" of the anticipated 24,000 tonnes of salmon for the year.
The Scottish Salmon Company now accounts for more than 20% of Scotland's total salmon production.
'Significant progress'
Mike Corbett, chief executive, said: "Overall performance has continued to be strong and the demand for a premium Scottish product remains high.
"This quarter and the first half of the year have continued to build upon the significant progress that has been made over the past 18 months.
"As we continue to invest in the business, we expect that this solid performance will continue throughout the second half of 2010."
The company, which employs 300 people, owns about 50 sites in the Hebrides and on the west coast of Scotland along with processing plants in Stornoway and Cairndow, Argyll.
It said it plans to focus on developing its Hebridean brand and introduce pin-bone-out fillets from its processing facility in Stornoway, which is due to open in the autumn with the creation of 70 jobs.
Recently, the Scottish Salmon Company bought over West Minch, the last significant independent fish farming operation in the Western Isles.