Fears over outdoor nursery hygiene call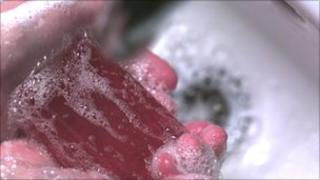 Some parents have raised fears that health and safety rules could jeopardise the work of Scotland's pioneering nursery schools.
An outdoor nursery in Fife, the Secret Garden, has been told to change its hygiene practices.
Children have been asked to use running water to wash their hands, rather than the current system of using hand wipes, amid worries over infections.
The nursery said it was not practical to carry water into the woods.
It said the only way to avoid transport issues would be to stick close to the village hall, a requirement that would stop the nursery being truly nomadic.
Safe and practical
Talks between the organisations are continuing.
A spokesman for the Care Commission said: "The Secret Garden is a unique service based in the outdoors and we are actively working with them to establish the most safe and practical method of hand hygiene for young children."
He added: "We have requested Health Protection Scotland (HPS) write a report on infection control and hand hygiene practices for young children in an outdoor play environment.
"The Care Commission is continuing to engage with HPS as the country's lead agency in health protection to find a suitable way forward in these cases. "
In 2006 five toddlers were left seriously ill after an outbreak of E.coli O157 at the Careshare Lauder Nursery in Dunfermline. Fourteen people were affected in the incident and a source of the outbreak was never identified.