Midlothian dry ski slope 'could be rescued'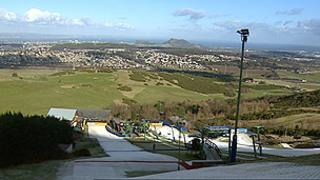 The UK's longest dry ski slope could be saved by a rescue package.
A report by Midlothian Council, which owns the loss-making Midlothian Snowsports Centre, concluded that the business could be turned around.
Central to the plan is £600,000 of investment from SportScotland, and selling off some green belt land near the site to developers.
The centre has been losing about half a million pounds a year.
About 30 Olympians, including Alain Baxter and Finlay Mickel, have trained on its artificial slopes over the years.
The centre, which is also known as the Hillend ski slope, it has been the focus of an internet campaign, supported by more than 27,000 people.
A management shake-up has already made savings, and a new report from council officials suggested further changes could see the centre breaking even within two years.
Councillors will consider the report at a special meeting on Friday.