Lothian and Borders Police told to cover up tattoos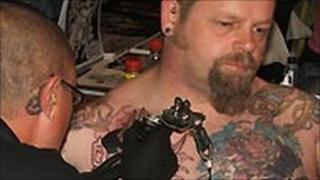 Police officers in Edinburgh will soon have to cover tattoos when on duty, as part of a new policy.
In the past only offensive tattoos, for example sectarian or racist images, had to be completely covered.
A Lothian and Borders Police spokesman said the policy had to be changed as a result of an increase in applicants who had extensive tattooing.
But Jackie Muller, branch secretary of the Scottish Police Federation, said the plans were "draconian".
The force said long-sleeved shirts, blouses or base layers would be given to uniform officers, while plain-clothes officers would be asked to adopt a dress code that covered any visible body art.
The policy will come into force when Lothian and Borders police has enough long sleeved shirts to implement it.
However, Ms Muller said: "If individuals have non-offensive tattoos it seems pretty draconian to have to cover them up."
Facial or neck tattoos are not acceptable unless they are for cultural or religious reasons.