New Forth crossing archaeological dig to begin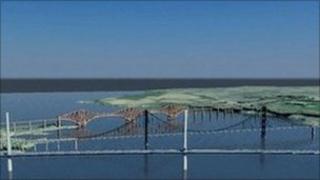 Headland Archaeology (UK) Limited will carry out archaeological investigations on the land earmarked for the Forth Replacement Crossing (FRC).
The Edinburgh-based company has been appointed by Transport Scotland.
The investigations will include geophysical survey, trial trenches and hand excavation in an effort to unearth objects of historical interest.
Work is scheduled to begin this month and is expected to last about a year.
The project will get under way well in advance of any construction, to allow sufficient time for recovery and recording of any items found.
This will help ensure, subject to parliamentary approval of the Forth Crossing Bill, that construction of the new bridge will begin in 2011.
The new bridge is scheduled to be completed five years later at a cost of between £1.7bn and £2.3bn.
Headland Archaeology carried out similar investigative works for the Upper Forth Crossing at Kincardine and as part of a joint venture on the M74 Completion.
Steven Brown, Transport Scotland's roads team manager for the FRC, said: "Headland Archaeology's investigations will use all practicable measures to ensure any items of historical interest are found and preserved.
"We will continue to work closely with Historic Scotland to ensure that this happens."
Transport Scotland and its advisors have been working with Historic Scotland and have identified several areas as having potential archaeological interest.
Initial studies will focus on land at St Margaret's Hope and Echline Fields.