Antony Gormley statues knocked under water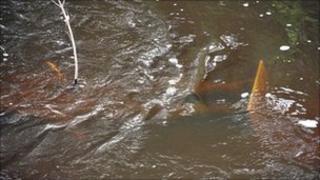 Statues in an Edinburgh river made by the sculptor who created the Angel of the North have fallen victim to the Scottish weather.
Two of the six life-sized cast-iron figures installed in the Water of Leith last month have been pushed over by high tide following heavy rain.
Antony Gormley's work was commissioned by the National Galleries of Scotland.
But art officials insist the statues are "designed to tip over" and are now planning to pull them up again.
Parts of Scotland were deluged by almost a month's rainfall in just 10 hours, leaving rivers and burns in full flow.
McDonald's uniform
Edinburgh, which gets an average of 79mm during July, had 22mm in four hours on Thursday.
Officials said they had been inundated with calls from art lovers worried the £400,000 project had been stolen.
Within days of being installed, locals in Leith welcomed the life-sized statues by decking them out in bikinis, Y-fronts and even a McDonald's uniform.
A National Galleries of Scotland spokesman said: "It has been noted that the figures in the Water of Leith at Powderhall and Bonnington, which form part of the Antony Gormley sculpture 6 Times, are no longer visible.
"The figures have been designed to tip over under certain amounts of pressure or force, minimising any flood risk.
"In light of the recent adverse weather conditions it is highly likely that the figures have tipped over and are now submerged in the water.
"Once the water has receded, a thorough investigation of each site will be undertaken and the figures will be restored."
The 60-year-old Londoner's best-known work is the Angel of the North, a public sculpture which towers over Gateshead.