Edinburgh Zoo reveals new howler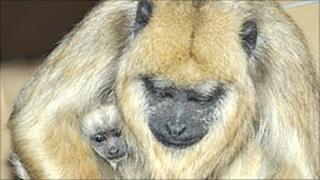 A six-week-old baby monkey has gone on show to the public for the first time at Edinburgh Zoo.
The howler monkey is the first to be born to his mother, Meryl, and father, Kiko, and the first since the death of the zoo's previous breeding female.
Molly died shortly after giving birth to her son, Diego, in April 2008, and he was hand-reared by keepers.
She was replaced by Meryl, who came to Edinburgh from Twycross Zoo in October 2008.
Kiko was originally a wild monkey, but was rescued after being illegally captured in Brazil when he was a baby.
Keepers hope the new baby, who has yet to be named, will bring "important genetic diversity" to the captive collection.
Lorna Hughes, head keeper for primates at the zoo said keepers were delighted with the arrival.
She said: "After the sadness attached to Diego's birth, we are thrilled that this time around this youngster will have its mum to rear him and we'll have less sleepless nights.
"For Diego, it is good for him to see the normal rearing process within the group environment and also for him to have a new playmate."
Found in the forests of Argentina, Brazil and Paraguay, the black howler monkey's name comes from its loud territorial calls, the volume of which is increased thanks to an enlarged bone in the animal's throat making a "howl" audible from two miles away.
Babies are born with their coats a buff colour, like the females, but males gradually turn black as they get older.
The new monkey will stay at the zoo until he reaches sexual maturity when he will move on to a new animal collection and start his own family.