Nick Faldo's father's watch found at Open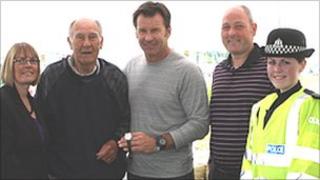 Golf star Sir Nick Faldo has personally thanked an amateur player for finding a watch his father had lost during the Open Championship in Fife.
George Faldo, 84, had failed in his search for the watch, which had been given to him to mark his 80th birthday by Sir Nick and his children.
When Sir Nick asked at lost property he found Gordon Campbell had handed it in after finding the watch at the course.
The golfer said he was "absolutely delighted" that it had been handed in.
He added: "It has been great to be able to thank Mr Campbell personally for his act of courtesy in handing the watch to police."
Mr Campbell, who lives in Motherwell, Lanarkshire, said: "It was obvious when I found the watch that it would hold great sentimental value to the owner.
"I am really glad I have helped reunite Mr Faldo with his watch. You can imagine how amazed I was when police told me that it belonged to the father of Sir Nick Faldo."
Ch Insp Alan Turpie, of Fife Constabulary, said: "The thoughtful actions of Mr Campbell in handing in found property to the police is a reminder to us all that, when we lose something valuable, it is worthwhile checking with your local police to find out if it has been handed in."
South African Louis Oosthuizen was crowned the Open champion at St Andrews on Sunday.
The 27-year-old was a 200/1 outsider at the start of the 139th Open Championship.