Covid restrictions will finally be lifted for IVF couples in Glasgow
By Chelsea Rocks
BBC News Scotland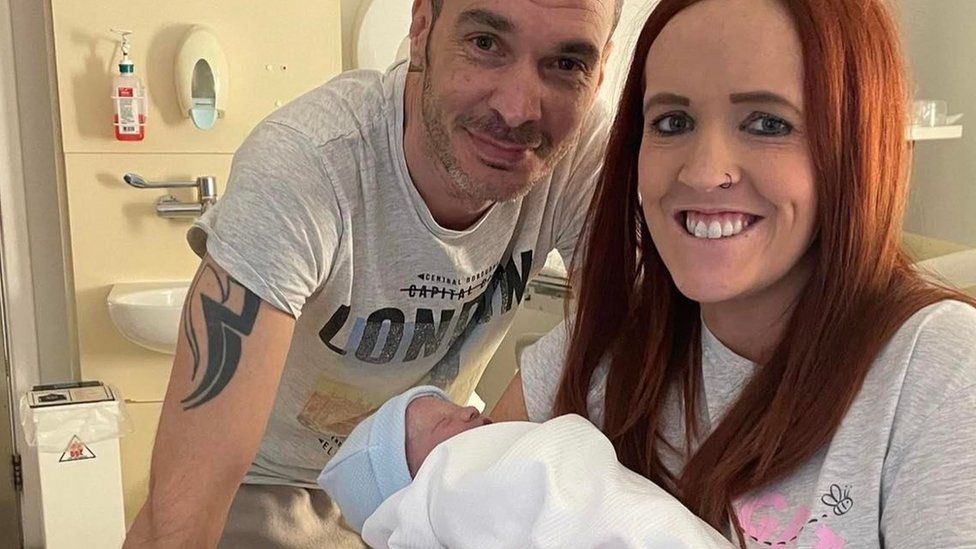 Women going through IVF treatment at an NHS fertility clinic in Glasgow will finally be allowed to take their partners to medical appointments.
It comes more than two years after Covid restrictions were introduced and four months after visitors were welcomed to all other wards at Glasgow Royal Infirmary.
Patients say they felt unsupported and overwhelmed during consultations and medical procedures.
The rules will be lifted on Monday.
NHS Greater and Glasgow and Clyde said it needed to "strike a balance" between protecting patients and staff and providing the best care possible.
Kimberley Harney, 30, conceived through IVF in September 2021.
Her husband, Scott, was not with her for appointments including when she was told whether she was successfully responding to treatment, when she underwent general anaesthetic for egg retrieval, or when the embryo was implanted in her womb.
"I was sobbing, hormonal and stressed - I could have been doing with having someone else at the appointments with me," she told BBC Scotland.
Kimberley went through the scans, injections and surgeries alone.
"It's not exactly nice, it's very invasive and you never know how you will feel. It's not a nice experience," she said.
"Partners weren't even allowed in the waiting room, Scott couldn't play any part in my treatment and the only time he was even allowed into the clinic was to give a sperm sample and collect me after my aesthetic.
"You are grateful to have the treatment but it's so difficult to go through it on your own. Going to appointments yourself, it just isn't the same as watching the egg being implanted together."
Kimberley gave birth to her son, Zak, in May but she knows other women who have gone through several failed IVF attempts without their partner holding their hand.
She said: "I can't imagine being told you haven't responded to treatment, and then having to leave the clinic on your own and tell your partner."
However these restrictions were lifted several months ago.
And there have been no rules in place in Scotland to refuse visitors to any other ward of a hospital since April.
Claire, a current patient of the Assisted Conception Service at the Glasgow Royal Infirmary, said she had endured months of treatment on her own.
"As time progresses and investigations become more invasive, it has taken a large emotional toll on both of us, with my husband becoming frustrated at not being able to support me when it is most needed," she said.
"If my husband was allowed to be with me it would provide essential support, not only emotionally, but in terms of absorbing important information when it all becomes a little overwhelming.
"Although it is me who needs the investigations and tests, it is my husband and I going through this together."
The Glasgow health board apologised for any "distress or inconvenience" caused by the policy.
A spokesperson said: "We need to ensure that we strike a balance between protecting our patients, their relatives and our staff, while continuing to provide the best person-centred care possible.
"While partners have been able to accompany the patient to specific appointments, such as egg collection and pregnancy scans, to ensure we could maintain high levels of safety as well as maximise the number of patients we could see, we limited partners' attendance at other more routine appointments.
"We are aware of the difficulties this might have caused for couples using our services, and we would like to apologise for any resulting distress or inconvenience.
"However, we are pleased to announce that, from Monday 8th August, all restrictions at the Assisted Conception Service will be removed and partners will be able to attend all appointments once more."