Alcohol deaths at highest level since 2008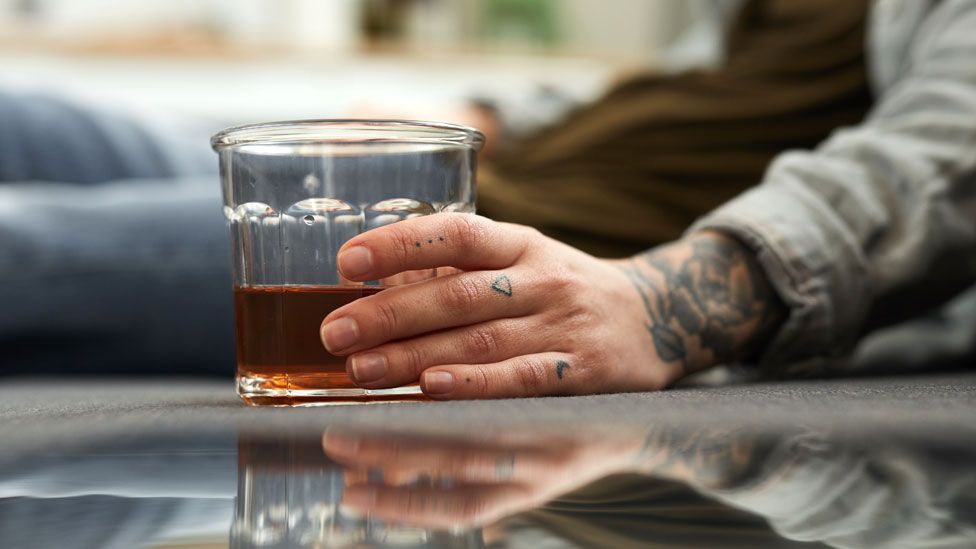 The number of people in Scotland whose death was caused by alcohol has risen again and remains at the highest level since 2008.
This was 55 more than the previous year.
The NRS report said two-thirds of those who died were male and the average age was 59.7 for men and 58.7 for women.
The rate of mortality from alcohol-specific causes was 22.3 deaths per 100,000 people in 2021, which is higher than the previous year but below the peak rate of deaths from alcohol in 2006.
Julie Ramsay, vital events statistician at NRS, said: "Deaths attributed to alcohol were 5.6 times as likely in the most deprived areas of Scotland compared to the least deprived areas. This is more than the deprivation gap for all causes of death, which is 1.9."
At council area in the last five years, Inverclyde, Glasgow City, West Dunbartonshire, North Lanarkshire, Dundee City, North Ayrshire and Renfrewshire all had alcohol-specific death rates higher than the Scottish average
Alison Douglas, chief executive of Alcohol Focus Scotland, said the high number of deaths from alcohol was "devastating" and each one left behind family and friends suffering their loss.
"These impacts are experienced unequally with many more people dying in our poorest communities," she said.
"We seem to almost accept this toll as inevitable, but we should not. Each death can be prevented."
Ms Douglas called for the minimum unit price of alcohol to be raised from 50p to 65p in an effort to change attitudes to drink.
She also called for an emergency response on the same scale as the efforts to tackle the drug deaths crisis.
Figures out last week showed that 1,330 people died of drug overdoses in Scotland last year, a small decrease on the previous year.
However, Scotland continues to have by far the highest drug death rate recorded by any country in Europe.
At UK level, Scotland and Northern Ireland have had the highest alcohol-specific death rates in both of the last two years for which comparable data exists (2019 and 2020).
Data for the rest of the UK is yet to be released for 2021.
The difference between Scotland and the other UK countries has generally narrowed over the past 20 years.
Taking England as an example, in 2001 Scotland was 2.9 times as high but in 2020 it was 1.7 times as high.
Scottish Conservative health spokesman Dr Sandesh Gulhane said the "sad and worsening" figures proved it was the poorest who were most affected.
He said the Scottish government had wrongly relied on Minimum Unit Pricing, which he described as "a blunt instrument to tackle a complex problem".
Instead, he urged ministers to back the Scottish Conservatives' Right to Recovery Bill, which would give everyone a legal right to receive treatment for their addiction.
Scottish Labour health spokeswoman Jackie Baillie called for an urgent response from the Scottish government.
"Once again we are seeing the shameful consequences of the SNP's cuts to drug and alcohol services," she said.
"They have treated Minimum Unit Pricing as a silver bullet while failing to take the action needed to tackle this issue and save lives."
Public Health Minister Maree Todd said: "These figures show that Scotland continues to have a problematic relationship with alcohol, and we are determined to do all we can to address that."
She said that the introduction of Minimum Unit Pricing had helped reduce alcohol sales to their lowest on record but more action was needed to tackle the scale of alcohol-specific deaths.
Ms Todd added: "That is why we are working on initiatives that will support communities across Scotland to address harmful and hazardous alcohol consumption."
Related Internet Links
The BBC is not responsible for the content of external sites.