Call to raise school start age in Scotland to six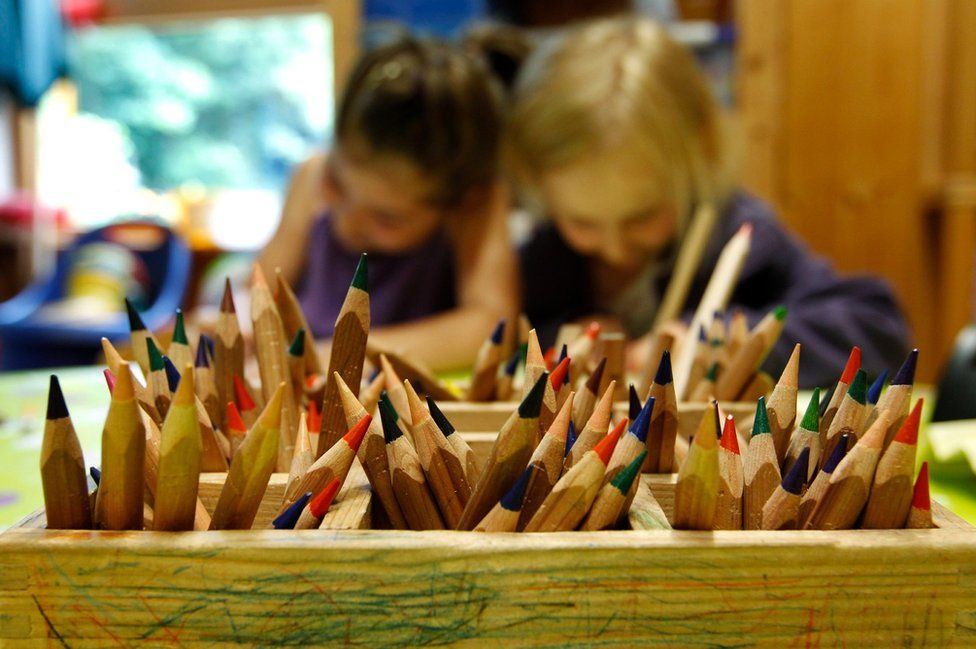 A shake-up of Scotland's education system which would see a kindergarten stage for three to six-year-olds will be debated at the SNP's conference.
Toni Guigliano, the party's policy convenor, said it would have a positive impact on young children.
The move would bring Scotland into line with countries such as Finland, where formal education starts at seven.
The Scottish government welcomed the debate but said it had no plans to raise the school age.
Mr Guigliano told BBC Radio Scotland's The Sunday Show the status quo was not working.
He said: "We are seeing more children with mental health problems.
"We are seeing more children with additional support needs and an attainment gap that is not narrowing at the scale that we would like.
"So what we are asking for is a culture shift in how we do early years education in this country."
Last year, Audit Scotland warned that the gap between what Scotland's poorest and richest young people were achieving in school "remained wide".
Mr Guigliano said the system was "designed to build a workforce" but did not reflect the challenges of the digital age.
He added: "If we get early years right so many other things will fall into place."
The proposal would see a kindergarten stage for three to six-year-olds, which would amount to increasing early years education by 12 months.
This would be followed by six years of primary education.
Mr Guigliano said it would be "fully funded" and children would not lose a year of schooling.
He said: "The question is whether primary one sits with formal education or whether it sits with early years education.
"And if you listen to early years experts, parents, teachers they are very clear that no four or five-year-old should be subjected to the pressures of the formal school system."
Mr Guigliano said his proposal should be discussed as part of the Scottish government's national conversation on education, which was launched last month.
He said: "When your education standards are slipping you don't double down on reading and writing in the early years.
"You look at wellbeing. You look at development. That's the way to approach it."
The proposal does not include a timeframe as Mr Guigliano said there would have to be investment in staff and training.
Larry Flanagan, general secretary of the Educational Institute of Scotland (EIS), told The Sunday Show he believed in a play-based approach to early years learning.
But he said "insufficient resources" had been put in place in the current system.
Mr Flanagan said: "We are not opposed to a strategy of kindergarten stage but you would have to look at resources, you would have to look at the training for staff.
"And we are very clear that you have to look at a very firm role for teachers within that continuum because we don't want a kindergarten stage which is disconnected from formal primary education."
A Scottish government spokeswoman said: "While the government does not have plans to change the school age it is welcome that there is an active debate on these issues and all such contributions will form as part of the national discussion on education.
"That discussion will inform plans to reform the education system to deliver change and improve outcomes for learners."
The issue will be debated at the SNP conference which is being held in Aberdeen from 8-10 October.