Delays to network of NHS Scotland's treatment centres
By Andrew Picken
BBC Scotland News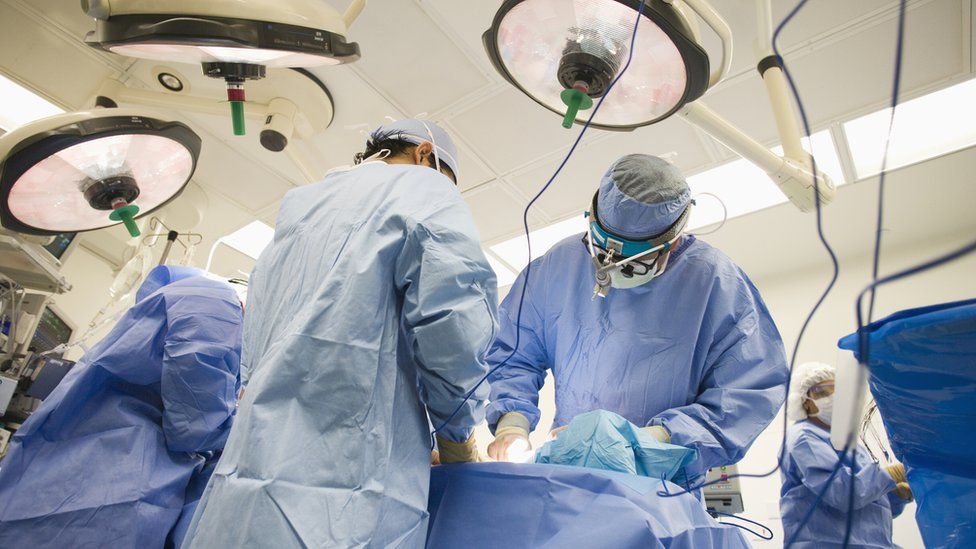 Half of the new national treatment centres planned to increase capacity for NHS operations are behind schedule.
The centres will open at 10 sites across Scotland and are meant to be delivering at least 40,000 additional procedures per year by 2026.
But at least five will not open as originally scheduled and some of the proposals have still to be agreed.
The Scottish government said addressing long waits was a "key focus of our plans for NHS recovery".
Plans to expand the Golden Jubilee Hospital in Clydebank and provide five new elective and diagnostic treatment centres were first unveiled by the Scottish government in 2016 with a view to them being completed by the end of last year.
This target was missed and Scottish ministers then expanded the plans to create 10 specialist national treatment centres (NTCs) instead.
The NHS recovery plan published in August, 2021 set out when the NTCs would be delivered over the next five years but some of the opening dates have now slipped, according to NHS boards.
A centre in Inverness due to open this year will open in April, 2023, while one in Aberdeen scheduled for 2025 is now expected to fully open in 2027.
Elsewhere, NTCs in Larbet and Kirkcaldy due to open this year will fully open early next year.
The biggest planned NTC is at St John's Hospital in Livingston which was due to open in 2025, but NHS Lothian board papers now suggest an operational date of early 2027 is more likely.
The papers also warn of a "significant increase" in costs. NHS Lothian said it was unable to say by how much due to ongoing discussions with the Scottish government about the project, which was originally priced at £70.9m.
The new specialist eye hospital was originally expected to cost £112.5m but the NHS Lothian board papers warn "significant cost increases" are anticipated which it says are "in line with other national treatment centre projects".
The St John's plan, as well as NTCs in Perth and Cumbernauld, are still developing their business case for approval by the Scottish government.
Changes to make new-build public sector buildings more environmentally friendly have lengthened this process.
Luke Farrow, an orthopaedic surgeon and research fellow at the University of Aberdeen, told BBC Scotland: "Getting the treatment centres online is an absolute priority.
"Every week, every month we delay that progress on working on the backlog then the backlog gets worse."
Mr Farrow said that as well as getting the centres open, there needs to be planning to ensure the 1,500 staff for the NTCs are "not taken from elsewhere in the NHS" and thereby worsen wider recruitment issues.
'I have been given my life back again'
It was the prospect of waiting years to get a knee operation on the NHS that sparked Lynda Raitt into investigating her options on the private market.
The Aberdeenshire pensioner was told she had up to a six-month wait at British private hospitals, so looked overseas and found a specialist in Poland who could replace both of her arthritis-riddled knees for just over £15,000.
"My life turned from being a participator in everything to a spectator - I couldn't even walk round a supermarket," she said.
"I had an opportunity, I went out to Poland and grabbed it with both hands because I wasn't prepared to wait.
"If I had gone on to the NHS waiting list it would probably be 10 months to see a consultant then a two-year waiting list to get the operation. Then I would have had to wait for my knee to repair before I had the other knee done."
The 66-year-old added: "I don't have the luxury of that time, I am a pensioner and I want to get out there and enjoy my life now, not in five or six years' time."
Lynda, a keen hill walker and tennis player before her knee problems, used her personal savings to pay for the operation and aftercare, which she said was excellent.
"I feel like I have been given my life back again," she said.
"I'm upset I have had to use savings to pay for this but I'm one of the lucky ones as I have some savings I can use - I know there are thousands out there who don't have the savings to do this."
The £400m NTCs plan is the single biggest ever increase in planned care capacity in Scotland's health service.
The new centres are planned to deliver at least 40,000 additional elective surgeries and procedures per year by 2026.
A total of 1,500 new clinical and non-clinical staff are needed for the NTCs but concerns have been raised about how this will be achieved.
In March, First Minister Nicola Sturgeon told MSPs recruitment was "progressing well" with 200 of the 1,500 secured at that stage, adding the full complement would be in place once the network was fully operational.
The treatment centre in Livingston will need 400 staff but NHS Lothian board papers warn there are "significant risks and challenges" around this level of hiring.
The Scottish government said: "We continue to work closely with NHS boards to open the national treatment centres (NTCs) as soon as possible.
"Four NTCs will open within the next year in NHS Fife, NHS Highland, NHS Forth Valley and NHS Golden Jubilee specialising in orthopaedics, providing significant additional capacity for hip and knee surgery. This is in addition to the national eye centre, which opened in November 2020.
"To support the recruitment of an additional 1,500 staff for NTCs across Scotland, we are supporting boards by investing £11m over the next five years to build increased capacity through a number of ambitious recruitment strands, including the continued development of local infrastructure for international recruitment."
Related Internet Links
The BBC is not responsible for the content of external sites.