We're so short-staffed our hotel has to turn people away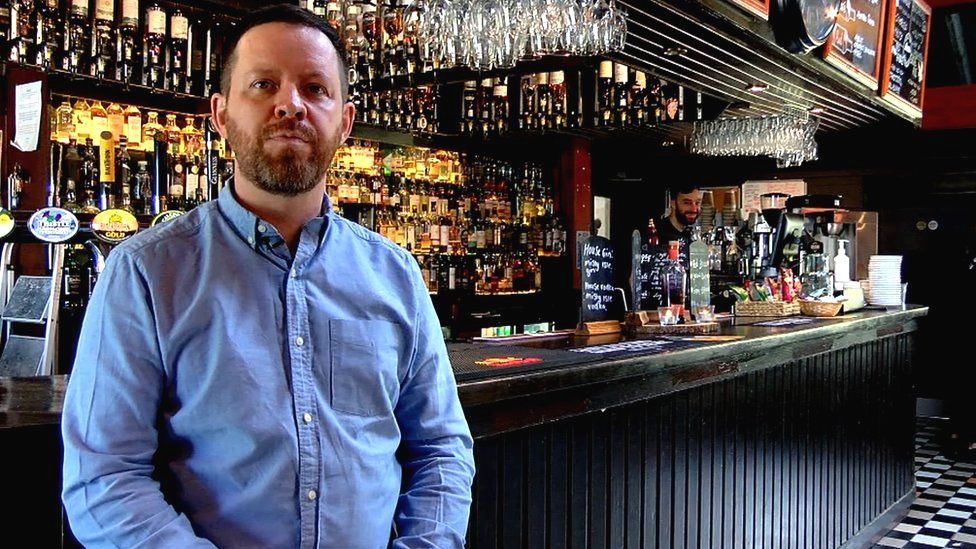 After surviving the Covid lockdowns, hospitality businesses are now being faced with a cost of living crisis, soaring inflation and staffing shortages.
Gary Curley runs the Sligachan Hotel on Skye.
In 2019 his business would have 45 to 50 staff at this time of the year, but it currently has just 33.
He and his wife have to fill most of the gaps caused by staff shortages.
"My wife and I are pretty hands-on but this year we have been working in every department," he says.
"My wife's been on breakfast, I've been in the kitchen, she's been doing housekeeping, I've been out in the bar.
"Every day we are having to jump in to help out and the days are getting longer."
He says the staffing situation means long hours and compromises he does not want to make.
"This is a business known for being open seven days a week, delivering good food and drink and having a friendly Scottish hospitality welcome, but we can't do that now.
"There are weeks when we can only open five days. We also close between 3pm and 5pm to give staff a break and get organised for dinner service.
"There are days we are having to turn people away and we don't want to do that."
Mr Curley said this was the most difficult year he had experienced in the industry, and blamed Brexit for the biggest issues.
"In 2019, a third of our staff were from the European Union. Now we are just not getting applications from there.
"Unless the government step in and take the issue seriously what you will see is a pretty apocalyptic future for hospitality."
Kelly Fairweather has three businesses that she is struggling to keep going.
She owns The Selkie cafe bar in Dundee, a bakery, and a housekeeping business called At Your Service.
She saw her number of staff in the cleaning business drop from 11 to just three when European staff disappeared after Brexit.
She said: "We now have customers who used us weekly, now we can only see them once a month.
"We also have a bakery which has been closed for three months because we have no staff. Across the three businesses we have 18 vacancies.
"It's like being in a boxing ring and constantly taking punches."
She saw the monthly electricity bill for her 28-seat cafe rise to £3,000 last month.
Ms Fairweather said: "There are no caps, no rules on who provides our energy and in hospitality if you haven't got three years of trading, you can't get a contract, so these guys can put up their prices as they wish.
"This month I have had eight texts from my provider saying my daily rate is going up and my price per unit is going up."
Dean Banks, who owns Haar restaurant in St Andrews, said that in 2019 about 30% to 35% of his staff were EU nationals. Now that has fallen to about 10%.
"We have had to go through a process with lawyers and the government to be able to employ staff from the US, Australia and Canada," he said.
"It has been very costly for the business to do that."
He has also had to step back from his chef role to keep the business running.
"I've had to come out of the kitchen more and help around the business, everywhere from running the restaurant some nights, running the bar area, kitchen porter work.
"I have to work harder. I am here a lot more, doing about 100-110 hours a week because I want my business to do well, I want to keep my staff."
The latest quarterly survey carried out by the Scottish Chambers of Commerce found hiring staff was a challenge, with recruitment difficulties up 10% in the last quarter.
Paul Waterson from the Scottish Licenced Trade Association said: "Pre-Brexit we were in a good position and then we lost a lot of staff and that is the main problem.
"This means recovery from the pandemic is halted, the development of the trade has been halted, one in three businesses are trading at different hours and some are shutting down part of the week, it is a very difficult situation."
Liam Thomson from UK Hospitality said there were currently 40,000 hospitality vacancies in Scotland.
He told BBC Scotland: "We have members reducing the levels of occupancy to 75% or 80%, because they don't have enough staff to look after the guests. Some are only open to provide meals and drinks to residents for the same reason.
"Our members are experiencing cost rises cross the board - food, fuel energy prices, inflation.
"Many businesses are trying to keep prices down so it's a fine balance, and in trying to absorb those costs we found two thirds of our businesses are not actually making any profit.
"Businesses are now looking at how they will be able to operate beyond the summer and we are looking at a situation where we might lose them."
The Scottish Chambers of Commerce has called for tax cuts, to shield firms from the worst of the damage.
At the end of last month a holiday took me across the north of Scotland. All the people I asked said that staffing a hospitality business is a nightmare.
July and August bring the British school holidaymakers to the Highlands, but June is usually the month when they rely on European tourists. And while they have been returning in modest numbers - and in large numbers around the North Coast 500 route - it is clear that the capacity to welcome them is severely limited.
It seems clear that there are three lessons. One, businesses are struggling, and they need help. Telling them to pay higher wages and invest in training can only take them so far.
Two, the quality of Scotland's tourist offer has worsened. While the pictures on Instagram can bring people in large numbers, poor quality service will drive away the next year's harvest of business.
Third, those with the most sought-after skills - notably chefs - have gained considerable workplace bargaining power.
Lockdown and time away from hot, cramped kitchens for exceptionally long hours has shown them there is a better work-life balance to be had. And with many European workers having left, without replacements, they get to set the terms and conditions.
It used to be that if the kitchen closed at 2pm and you couldn't get food for miles around, it was perceived as a sign of poor quality service. It may now be a sign of higher quality employment.