Police Scotland applicants fall 50% in one year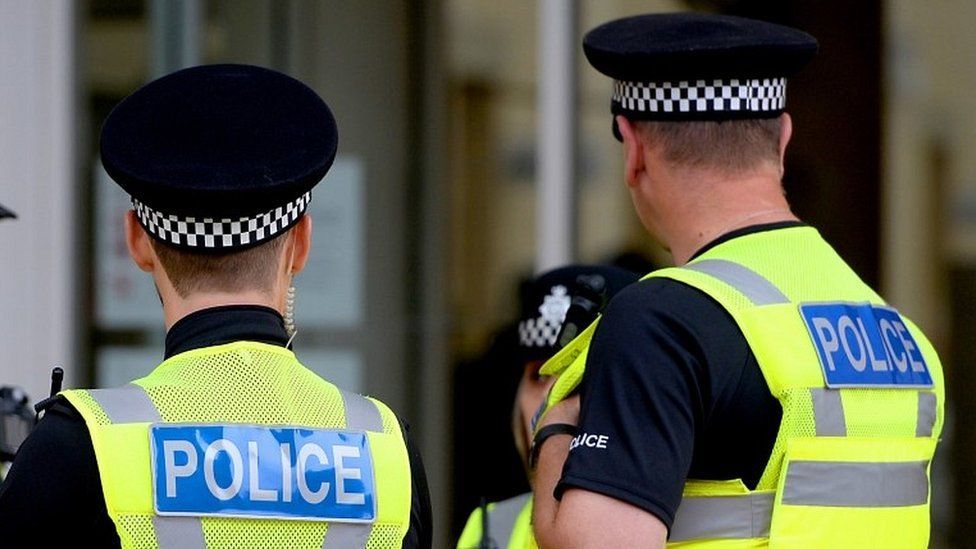 The number of people applying to join Police Scotland has fallen by more than 50% in just one year, new figures have revealed.
There were 2,237 applicants in 2021-22, down from 5,611 the year before.
The data was revealed in social affairs magazine 1919, which is funded by the Scottish Police Federation (SPF).
Scottish officers are protesting about a "derisory" £565 pay rise offer.
By law, officers cannot take industrial action but will now charge for all overtime and refuse to begin shifts early.
SPF General Secretary Calum Steele described the applicant figures as an "astonishing drop".
He said: "Policing is clearly becoming less attractive as a career choice, which could be down to issues around pay, funding and falling numbers of officers putting more strain on available resources.
"We are aware there is a very buoyant jobs market in the UK just now and the police service is competing against a whole variety of other professions and industries."
Police Scotland appointed 442 new officers in 2021 - a slight increase on the 430 from 2020.
This falls well below the 1,017 new officers appointed in 2019, when there were 4,228 applicants to the force.
Mr Steele also warned of a looming retirement crisis in Police Scotland.
The SPF suggested one in 10 officers were considering leaving after the introduction of new pension arrangements that would allow them to retire five years early.
Mr Steele said: "This makes it all the more crucial that we ensure we are attracting a high number of strong candidates with each recruitment drive."
Police Scotland's Superintendent Simon Wright urged potential applicants to consider a career with the force
He said: "The police service, like many other large organisations, has been dealing with the impact of Covid which limited our recruitment and training for a period of time.
"However we have continued to recruit people, and importantly, have successfully met all our recruitment intakes.
"Since the start of 2022, we have received 1,755 new applications and have increased police officer recruitment by 50%, bringing around 300 new police officers into policing on every intake."
The Scottish government said police officer numbers "are favourable relative to elsewhere in the UK" with around 32 officers per 10,000 people in Scotland, compared to around 23 officers in England and Wales.
A spokesperson said: "It is normal for officer numbers to fluctuate and the current figures were impacted by use of the Police Scotland training college as a base for UK officers during COP26, as well as the ongoing impact of coronavirus restrictions."
Further talks in the pay dispute between the SPF and the Scottish government were held on Monday.
The federation said progress had been made, but a gap remained between the two sides. Talks are expected to resume next week.