Ethnic minorities less likely to take up Covid vaccine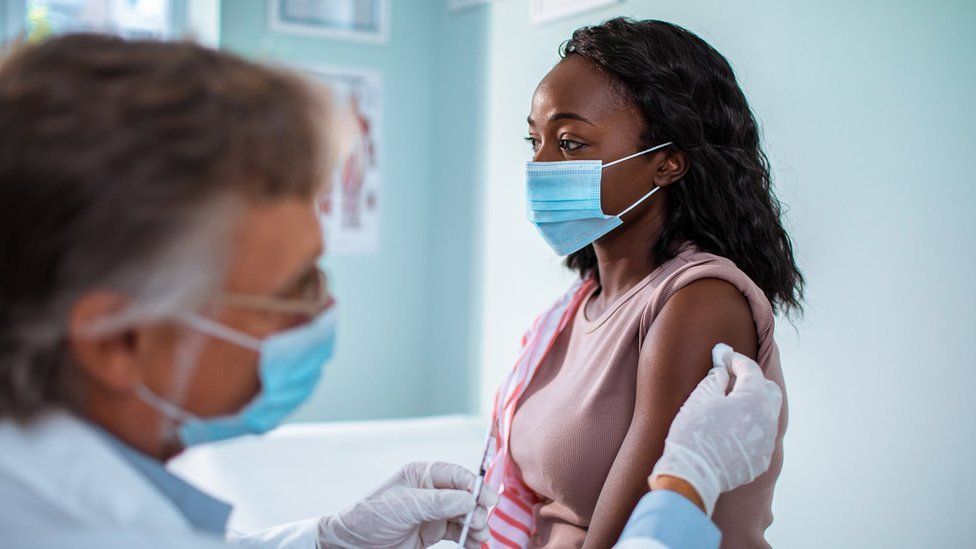 Minority ethic groups in Scotland are significantly less likely to have a Covid vaccination than the rest of the population, a new report has found.
It also found just 58.2% in the White Polish group have had one dose.
Researchers also examined the impact of socio-economic status and age on vaccination uptake.
They found people living in the most deprived areas were about one third as likely to have a vaccine as those in the wealthiest areas.
The report said the main factors for not getting vaccinated were "complacency, convenience, and confidence".
Among ethnic minorities it highlighted a lack of trust in organisations promoting the jab, a shortage of information which is "culturally and linguistically appropriate" and the flexibility of vaccine appointments
It also noted the influence of "perceived harms from vaccine promoted via social media (especially in the Polish community)".
The report said overall first and second dose uptake among the over 18s remains high at 91.8% and 88.6% respectively.
But as of 7 April the uptake of third boosters has been somewhat lower at 77.5%.
Despite this researchers said vaccine uptake in children remains low, with just 17.7% of all 5-11 year olds having had their first dose as of 8 May.
Separately, 28.4% of 12 to 15-year-olds have still to receive at least one dose of Covid vaccine as of 11 April.
YouGov polling conducted on behalf of the Scottish government in April indicated that parental support for 5-11 year olds to be vaccinated stands at 45% with 11 barriers to vaccination centring around safety concerns, practical issues, and questions over the need for it.
NHS boards which offer Covid jabs at schools have the lowest percentages of unvaccinated 12-15 year olds.
Uptake was also found to be lower in younger adults and pregnant women.
Among the report's recommendations for future vaccination programmes is the use of appointment letters for older groups and either a self-appointing phone line or online bookings for younger groups.
It said those who do not make their own appointment after a period of time should be sent an appointment letter or followed up by phone
PHS also recommends some flexibility at drop-in clinics to accommodate "opportunistic vaccinations".
The report said between 9% and 26% of all age groups surveyed indicated a preference to turn up at a drop-in clinic without an appointment.
Separately, it calls for targeted delivery models such as care homes and home visits to be prioritised as early as possible in a programme roll out
And it said mass vaccination centres were likely to be most useful in a surge scenario to maximise the number of jabs.
This is down slightly on the previous seven days when 15,541 virus cases were reported.
But the latest figures, for week ending 26 June, show the average number of patients in hospital with Covid rose by 32% to 1,148.
Related Internet Links
The BBC is not responsible for the content of external sites.